What You Should Know about J.B. Hunt Intermodal Services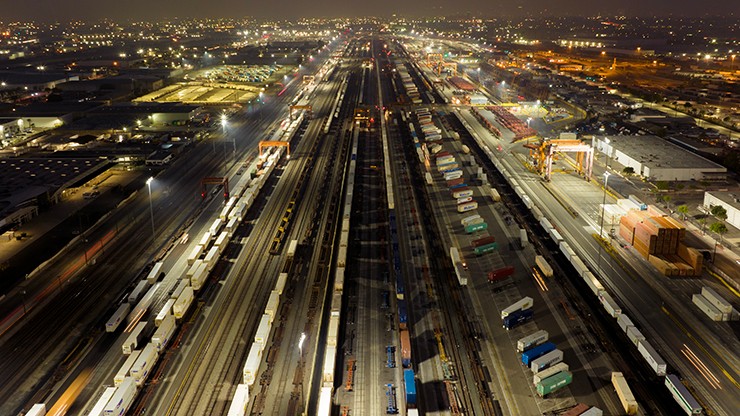 J.B. Hunt is a leader in intermodal shipping, featuring the industry's largest fleet of company-owned containers. By combining railway freight and truckload services into one fluid network, intermodal is a cost-effective option that helps businesses reduce their carbon waste and ship their products more sustainably.
Intermodal transportation isn't new, but not everyone knows exactly what the service is, how it works or how it can benefit shippers and the environment alike.
What is Intermodal Transportation?
Intermodal transportation is the moving of freight by two or more modes of transportation, usually from a train to a tractor or ship or vice versa. J.B. Hunt specializes in highway-to-rail-to-highway intermodal and has recently expanded our service and capacity options in this area to meet customer demand.
J.B. Hunt has been offering intermodal shipping since 1989, and it is something we helped pioneer. The company laid the foundation for the first major strategic alliance that would improve previous intermodal arrangements. The agreement with the Santa Fe Railroad – now part of BNSF Railway – gave J.B. Hunt priority loading rights to ensure premium services to our customers. In the 30 plus years since, we have grown into the leader in intermodal transportation and operate the industry's largest fleet of company-owned containers, with plans to grow the fleet to as many as 150,000 containers over the next three to five years.
How Does it Work?
The goal of intermodal transportation is to move freight across long distances using the most efficient method possible. To help accomplish this goal, J.B. Hunt uses its fleet of 53' containers, which can be moved via several transportation options. J.B. Hunt specializes in train-to-tractor shipments. Here's how a typical shipment works:
Containers arrive via truckload at an intermodal hub

Containers are then loaded onto a train by double-stacking

The train departs the origin hub 

The train arrives at the destination hub

A crane moves the container from the train and onto a chassis that is custom-built for J.B. Hunt containers

The container, now ready for truck transportation, is coupled to a tractor and moved to a container yard; this process is called drayage

The container then leaves the container yard via truckload towards a customer's location (or warehouse)

The tractor carrying the intermodal container arrives at its destination, completing the process
Why is Intermodal Important?
Intermodal shipping provides solutions for customers who are looking for cost-effective ways to move freight long distances. It also provides many other benefits for customers:
Intermodal is one of the most environmentally friendly ways to move freight from point A to point B. In 2021, J.B. Hunt avoided 3.6 million metric tons of CO2e emissions through our intermodal offerings. Additionally, J.B. Hunt offers customers a carbon-neutral shipping solution via our CLEAN Transport™ program.

Perishable products can be kept safe, too, courtesy of our industry-leading fleet of temperature-controlled containers.

Technology like the J.B. Hunt 360°® platform makes it easy to streamline the process. Intermodal shipping is one of multiple modes offered in J.B. Hunt's Shipper 360™ freight matching platform, which is one of only a few in the industry that offers intermodal options.

Intermodal rail service is one of the most cost-efficient transportation options available.

We have long-standing relationships with major intermodal rail providers to help provide service you can count on.
Looking Towards the Future
J.B. Hunt already has the largest fleet of company-owned containers, and we're working to grow that fleet. Containers are being incorporated into our fleet via West Coast ports after arriving from China. To accelerate containers being incorporated into our fleet, J.B. Hunt has agreed to a multi-year, multi-vessel agreement. With this service, we're now able to offer access to accelerated shipping for our customers needing to move freight from a defined set of ports in China.
And we are adding further efficiencies to the system by taking control of transloading operations. We launched a new transloading service in November 2021 in Jersey City, New Jersey, to support the New York/New Jersey International Gateway. Since then, we have established transloading services on the West Coast and beyond. These transloading facilities create a one-stop shop for quickly transferring international freight to domestic travel. To date, we have seven transload facilities across the country from West Coast to East Coast to southern states like Texas and Georgia. With all these improvements and innovations, we're just scratching the surface of what we plan and hope to achieve. We'll continue forward to provide the capacity to deliver and achieve our goal of creating the most efficient transportation network in North America.
Curious about how intermodal might work for your business? Call your representative to discuss intermodal offerings in the coming months. If you don't have a representative, click here.