How Customer Value Delivery® Helps Us Deliver on Our Promises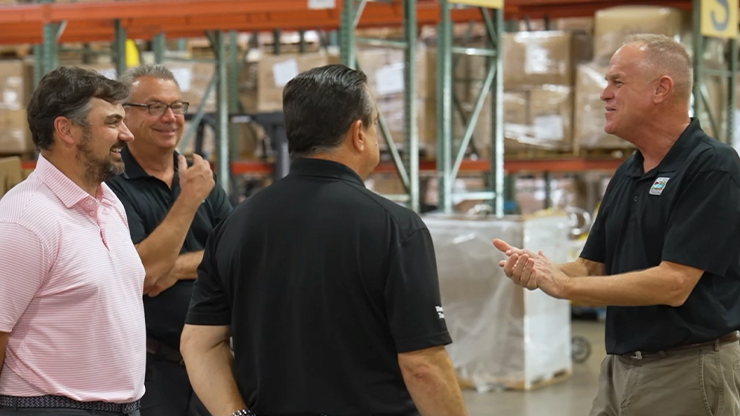 In our more than 61 years in the industry, we've learned a thing or two about what keeps freight moving. We're on a mission to create the most efficient transportation network in North America. When customers choose to work with J.B. Hunt, they get the capacity they need when they need it and the benefit of our decades of industry-leading experience. Our goal is to provide our customers with supply chain management solutions that create value and meet their business needs.
No two businesses are the same and neither are their supply chains. Through our proprietary Customer Value Delivery® methodology, or CVD, we learn about our customers' unique needs and develop tailored supply chain solutions that help them meet their business goals.
Keep reading to learn more about how we use CVD to build efficient supply chains and create customer value.
What is CVD?
CVD is our proprietary methodology that defines our passionate pursuit of continuous improvement. At J.B. Hunt, we are not satisfied with good enough. We want to make our customers raving fans through exceptional customer service. CVD provides us with a roadmap for creating added value and anticipating customer needs so we can deliver on our promises and provide best-in-class, personalized customer service.
J.B. Hunt first launched CVD in our Dedicated Contract Services® business unit in 2001 to add value for customers while managing costs. By employing CVD methodology over the years, DCS® has increased customer satisfaction, leading to a 98% customer retention rate.
How does CVD work?
CVD is a five-step, cyclical process. It begins when a customer approaches us with a need. Here is an overview of the five steps of CVD:
Understand. To build the most efficient transportation solutions for our customers, we first must understand what they need. Our account managers build strong relationships with each customer to stay attuned to their business's supply chain, needs and goals. With that information, our account managers develop a custom plan.
Deliver. We're a say-do company, meaning when we say we are going to do something we do it. In this step, we work to deliver on our promises and put the customized supply chain solutions into action.
Measure. We're not done when freight makes it to its destination. In this step, we measure to determine how successful we were in meeting customer needs and find places where we can improve or adjust.
Communicate. Our customers' satisfaction is what matters most to us. We keep in constant contact with our customers so we can address when needs change or when our customers feel something can be improved.
Anticipate. As our account managers get to know a customer's business, they begin to anticipate any needs the customer may have and plan accordingly. In this step, our people begin to prepare for the next transportation need, and the cycle begins again.
CVD in Action
CVD methodology has helped us create value and find efficiencies for our customers across our organization.
Last year, a customer came to us looking for ways to make their supply chain more efficient and sustainable. After meeting with them to discuss their specific goals and needs, our team got to work. We redesigned their fleet to utilize 57-foot dry vans and were able to add efficiency by eliminating every sixteenth load completed by the fleet. Over the course of a year, J.B. Hunt was able to reduce the customer's load volume by 206 loads. This saved the customer about $480,000 and 33,000 gallons of diesel. By implementing CVD methodology, J.B. Hunt was able to help our customer reach their sustainability and efficiency goals.
CVD can be employed quickly. When a major wholesale retailer came to us with a pressing need because their old logistics company was unable to accommodate them, we wasted no time finding the capacity they needed. In less than 45 days, we set our customer up with a 30-truck startup. As time went on, we were able to grow that fleet to 155 dry vans at 22% less cost than the original estimate. We found more efficiencies that saved our customer an additional $9 million and provided them with a 98% on-time delivery rate.
Our CVD methodology can also help our customers with global shipping needs. Pure Fishing®, a global provider of fishing equipment, was experiencing long waits at the port, causing shipping delays. Our team identified that our transloading service would help address many of their concerns. Before working with J.B. Hunt, it could take Pure Fishing up to 14 days to get a container off the port. By utilizing our transloading service and CVD methodology, J.B. Hunt was able to reduce time at the port to three to five days and remove up to two weeks from the total transportation time.
Creating Value
Our goal is to create value for our customers at every step of the transportation process. When you work with us, you have the whole J.B. Hunt team standing with you, figuring out the best supply chain solutions for your business.
Let us help you build a supply chain that creates value for your business. Get a quote today!