Fleet Management that Frees Your Business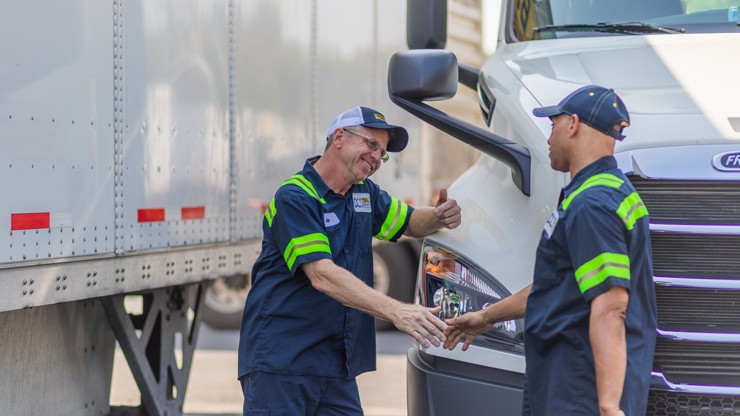 We work with companies from many industries including foodservice, agriculture, retail, construction and more. But all these companies have one thing in common: they realized that fleet management is too far removed from their core business and that they needed to outsource it.
That's exactly what happened with Simmons Foods. They turned to us at J.B. Hunt Dedicated Contract Services® as their dedicated transport provider because they were spending too much time managing the transportation function of their business, and it was taking resources away from what they do best. At J.B. Hunt Dedicated, we've made shipping and logistics our core business so that you can get back to yours.
Here are three reasons why companies like Simmons choose J.B. Hunt as their dedicated transportation provider.
The density of our locations is unmatched
As the largest dedicated transportation provider in North America, we have customers and locations spread throughout the country. What this means for you is that we have the flexibility to offer creative supply chain solutions for your fleet. Throughout the COVID-19 pandemic, many companies have found this to be an immense advantage. While some businesses in retail or foodservice may have slowed in the midst of lockdowns, others such as many in the grocery sector surged beyond their normal capacity. In cases like this, we can often "loan" assets and drivers from our customers who don't need them to the customers who do. This ability to scale your fleet up or down as needed is valuable and often works to the advantage of both customers.
We hire professional drivers and cross-train them
Several factors have converged in the past year to escalate the driver shortage everyone is experiencing right now. We recently estimated that the shortage has grown to more than 220,000 drivers. Most fleets have been affected by the shortage, but at J.B. Hunt, we have an entire team dedicated exclusively to hiring drivers. Because moving freight is our bread and butter, we can put the needed resources behind driver hiring and remove this burden from your company entirely. Not only that, but we also cross-train our company drivers for different industries. That way if your company experiences a surge and we can pull drivers from a nearby customer to accommodate it, they may be familiar with your industry and know how to operate within it.
We can execute specialized fleets and deliveries
When we offer transportation solutions, you can trust us to follow through and build them. Because of our vast experience working with customers across multiple industries, we've built fleets of all shapes and sizes. From hauling oversized product to sensitive freight, we can custom build a fleet that gets the job done. We also provide customer-specific training to our employee drivers so that they have the skills and expertise to make even complex deliveries.
Trust J.B. Hunt for your dedicated fleet management
With more than 60 years of experience in transportation and logistics and 30 years in dedicated fleet management, we know our way around the block. We can help you identify and capitalize on efficiency opportunities for your fleet that will streamline shipping and simplify your supply chain. This is our core business. Put it to work for your business by contacting us for a consultation today.