The J.B. Hunt Legacy of Honoring Veterans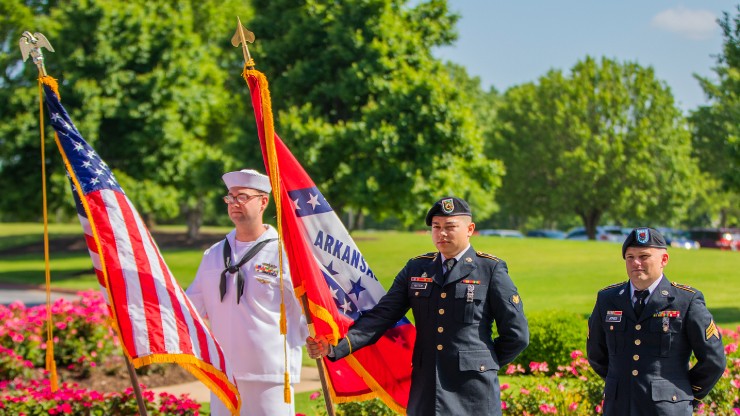 It's been said that if you want to know what someone values, look at how they spend their time and money.
The same principle rings true for businesses.
J.B. Hunt has a long history of supporting veterans, but it's a stance that is backed up by more than just words. J.B. Hunt's company culture is steeped in a deep commitment to veterans and their families, a commitment that has now earned the company the title of Military FriendlyÒ Employer for the sixteenth year in a row.
What Makes a Company Military Friendly?
Military Friendly Employers are recognized based on criteria established by VIQTORY, an organization that connects veterans to employers, companies, brands and schools that it independently ranks as Military Friendly.
"Companies earning the Military Friendly Employers designation create and elevate the standard for military programs across the globe. They have invested in substantive programs to recruit, retain and advance the veterans and service members within their organizations," said Kayla Lopez, Director of Military Partnerships, Military Friendly. "To them, hiring veterans and service members is more than just the right thing to do, it makes good business sense."
How Does J.B. Hunt Support Veterans?
In 2020, J.B. Hunt reached its goal of hiring 10,000 veterans, and today, nearly one in eight employees are former service members. The company invests time, money and human resources into recruiting veterans to the company and retaining them through programs like the Department of Defense's SkillBridge program, which assists veterans in their transition from military service to a civilian career. J.B. Hunt also works with the DOD's Military Spouse Employment Partnership to help military spouses find meaningful jobs and careers.
Many veteran employees also join the company's Veterans Employee Resource Group (VERG), where they can build community and find support in their experience of transitioning out of service. The group is open to both veterans and other employees who wish to show their support.
"As an employee of J.B. Hunt and spouse of a driver that is a veteran, I feel that being part of an organization like VERG allows me the opportunity to continue my duty to serve those who have once served," said Mary, VERG member and on-boarding specialist. "This resource group not only allows me to be able to recognize veterans for their service and sacrifice, show appreciation for all they have done for this wonderful nation, but provide them with a rewarding career along with a network of people that will always be proud of them and all they have done for us." 
But J.B. Hunt's commitment to veterans extends well beyond those it employs. J.B. Hunt routinely participates in programs that honor our nation's heroes both locally and nationally.
An Annual Memorial to Arkansas's Fallen War Heroes
J.B. Hunt has hosted the Arkansas Run for the Fallen Traveling Memorial at its corporate headquarters since 2017. The memorial includes an American flag and short biographical card for each Arkansas service member who has died while serving since September 11, 2001. The memorial is always open to the public and the company encourages visitors to come walk through the rows of flags each year and read about the lives of the state's fallen heroes.
Delivering wreaths to Cemeteries Across America
J.B. Hunt also participates in Wreaths Across America each year, a program in which more than 2 million wreaths are delivered to participating cemeteries and placed on the stones of fallen service members. This year, J.B. Hunt is expected to deliver more than 300,000 wreaths to national cemeteries throughout the country.
Each year, the J.B. Hunt equipment selected to haul the wreaths receives a special wrap or decal designating them as Wreaths Across America loads. The equipment is then proudly hauled by nominated J.B. Hunt drivers who are veterans themselves.
J.B. Hunt also holds a Wreaths Across America ceremony at its corporate headquarters every year to honor those who serve our country and the sacrifices they make to protect our freedoms. Employees can then follow the Wreaths truck to the nearby Fayetteville National Cemetery to pay their respects and help lay wreaths on the stones of fallen heroes.
"The Wreaths Across America ceremony at J.B. Hunt really exudes a mixture of emotions," shared Kaytlyn, an Intermodal pricing manager and VERG member. "This event holds so much significance in my life, both as the granddaughter of a WWII veteran and as a veteran myself."
A Culture of People You Trust
Supporting those in military service has been a pillar of J.B. Hunt's culture since its founding more than 60 years ago. It's been important to us from the very beginning – our founder, Johnnie Bryan Hunt, was a service member himself. Each and every day, the company strives to create an environment where veterans feel valued, heard and understood.
"Initially I wanted to work for J.B. Hunt because I am a veteran and I know that J.B. Hunt is a very veteran-friendly company, so that drew me in at first," said Bo, a client manager. "As I began working at J.B. Hunt, what made me stick is really just the people here within the organization, my teammates and working every day and learning from them."
It's this sense of belonging for employees that forms the bedrock of a successful company. J.B. Hunt strives to provide that level of support to all its employees. When you work with people you trust, you can grow together, go further and deliver more.
Learn more about how J.B. Hunt supports not just veterans but all employees in an effort to promote an inclusive and diverse work environment.