Celebrating Inclusion at J.B. Hunt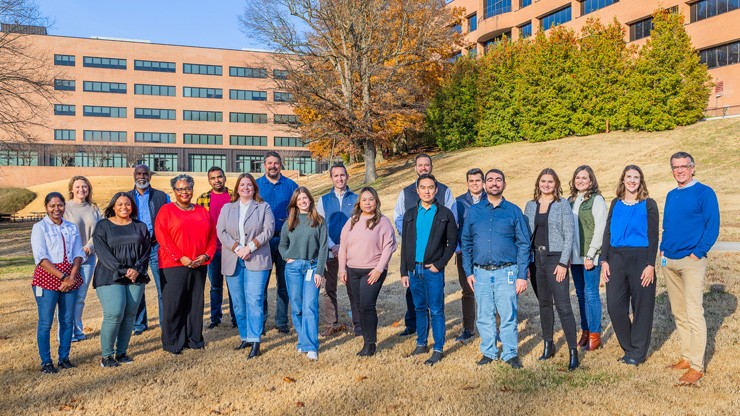 Empowering Workplace Culture
Each day, we want our employees to feel comfortable being their authentic selves at work. We also expect our people to respect others' opinions, feelings, beliefs, identities and values. We believe this type of environment welcomes inclusion and encourages innovation to help drive exceptional customer value. Having the standard of respect built into our culture, our people feel comfortable bringing their whole self to work, and when they feel that sense of belonging to something bigger, it allows them to produce the best work they can.
"It takes every one of our employees to embrace what inclusion represents and what we want it to be here at J.B. Hunt," Brad Hicks, executive vice president of people and president of Highway Services, said.
One of the ways we empower our workforce is through our Employee Resource Groups (ERGs). To date, J.B. Hunt has six successful ERGs that employees can connect with that foster an inclusive and safe work environment as well as promote personal growth and professional development. Those six groups are:
AAmERG (African American Employee Resource Group)
CAAPITAL (Cultivating Asian American Pacific Islanders Together as Leaders)
GROW (Growing and Retaining Outstanding Woman)
LEAD (Latinos Engaging, Advancing and Developing)
PLUS+ (LGBTQIA+ Employee Resource Group)
VERG (Veterans Employee Resource Group)
Focusing on Inclusion
The Inclusion Office was created in 2021 to lead the company's enterprise inclusion strategy and help foster a more inclusive culture. Its purpose is to enrich lives by creating an inclusive culture where all people feel welcomed, valued, respected, safe and heard. The Inclusion Office focuses on several initiatives:
Connection and Well-being: Connecting employees to resources, our culture and their own potential.  
Empowerment: Continuing to develop and deliver ongoing learning opportunities at various levels of leadership so that inclusion can always be instilled into our culture.
Enablement: Ensuring inclusion is at all steps of our talent lifecycle, beginning with application and continuing through retention.
Brand and Reach: Keeping employees connected internally as well as to regional and national inclusion trends through our work with the community, employer alliances and university relationships.
"We want to be more intentional, more accountable and skills focused in our strategy," Jackie Lawrence, J.B. Hunt director of inclusion strategy, said. "We want to make sure everyone understands they have an active role to play in helping us be successful."
In April of 2022, we launched The Inclusion Council. The council was created to serve as a voice for all our people to ensure that inclusion work remains relevant and impactful for everyone. Its purpose is to ensure that inclusion remains a key component of creating exceptional employee experiences. The council is comprised of senior leaders from across the company.
Creating an Award-Winning Atmosphere
Recently, J.B. Hunt was honored with national recognitions from Newsweek as one of America's Greatest Workplaces for Women and Greatest Workplaces for Diversity. We were also recognized by Forbes in 2022 as a Best Employer for Diversity. These accolades are a testament to the 'People we trust' foundation and demonstrate the company's commitment to creating a workplace where all employees feel welcomed, valued, respected, safe and heard.
We make investments in our culture because we want each of our employees, and those interested in becoming an employee, to feel like they have a place within our organization. When people feel like they belong, studies show productivity increases, brand loyalty is stronger and the pace of innovation accelerates.
"As a manager I feel like making sure that my team always feels included - no matter their beliefs - builds morale and retains better employees," Rosie Butcher, manager for intermodal appointments, said. "When they are comfortable and happy, I think they are more productive and focused on doing a good job."
Investing in Inclusivity
In addition to the work we're doing within our company, we are also continuing to work closely with the University of Arkansas Sam M. Walton College of Business to address inclusivity in the supply chain. In 2020, we announced a $2.25 million collaboration to increase the awareness of inclusion and diversity issues in transportation and logistics. Investments like these have set us apart and allowed us to gain recognition.
As a leader in the industry, we can lead the charge and it starts with our own employees. Our founders Johnnie Bryan and Johnelle Hunt had a vision to see J.B. Hunt flourish – and flourish it has. With over 37,000 employees from different backgrounds and walks of life, we're always grateful and excited to celebrate the inclusive workforce we've cultivated, and we'll continue to invest in our people.
Learn more about how J.B. Hunt promotes an inclusive workplace by visiting our careers page or our corporate responsibility page.