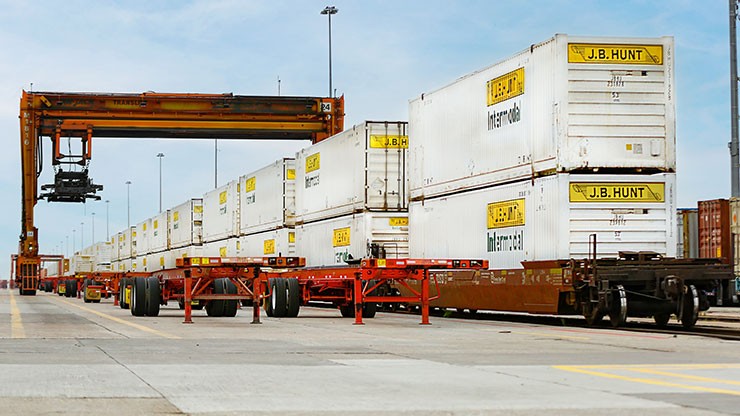 Your business relies on getting your products where they need to go.
But in today's fragmented market, finding the capacity you need is difficult. When finding enough capacity is a challenge, finding the most efficient way to move your freight can seem impossible.
At J.B. Hunt, our mission is to create the most efficient transportation network in North America. We have capacity to deliver and multiple freight mode options to make it happen.
That extends to your supply chain, too. We're here to help you eliminate inefficiencies in your supply chain. With access to an array of transportation options and nearly one million trucks, we not only have the capacity that will get your freight where it needs to go, but we also have the means to get it there in the most efficient manner possible.
Capacity that Offers Efficiency
Our size, scale and fleet density mean we have the capacity to deliver.
According to the American Trucking Associations, 97.4% of all trucking companies operate fewer than 20 trucks. J.B. Hunt operates over 21,000 trucks and over 151,000 pieces of trailing equipment. By leveraging company-owned assets in addition to a pool of qualified third-party carriers, we give our customers unmatched access to capacity.
And our multimodal shipping options mean that we can help you move freight in the most efficient and cost-effective way possible.
Our multimodal service offerings allow us to be mode agnostic. That means we're flexible in the way we can ship your freight. If you need help finding the right shipping option, we've got professionals on deck that can find you a custom shipping solution that adds efficiency into your supply chain and helps you meet your business goals. For example, if your business wants to work on reducing its carbon footprint, our engineers might suggest converting to intermodal shipping, which is up to 60% more efficient than over-the-road transport.
Whether you're looking for LTL options, private fleet management or something in between, we've got you covered.
Here are a few of the transportation options we provide:
Intermodal: Shipping by train is one of the most sustainable methods of transportation on the market. J.B. Hunt has been offering intermodal shipping since 1989.
J.B. Hunt 360Box®: This power-only option helps you keep your freight moving. 360Box allows you to use J.B. Hunt trailing equipment in a drop-and-hook setting, giving you the flexibility and responsiveness of having your own trailers without making the capital investment.
Truckload: Our company-owned fleet and pool of third-party carriers give you access to about 30% of all truckload capacity in North America.
LTL: Perfect for smaller shipments that don't fill a trailer.
Temperature-controlled: J.B. Hunt offers both truckload and intermodal temperature-controlled options for those shipping perishables.
Dedicated Contract Services®: Let us manage your private fleet so you can focus your time, energy and resources on your business, not on transportation. J.B. Hunt is the largest dedicated provider in the nation.
Final Mile Services®: We can help our customers who are looking for home, job site or B2B delivery, too.
Specialty and more: At J.B. Hunt we know no two customers have the same needs. Maybe you're in the logging industry and need something big enough to carry your timber. Or, perhaps you're in the agricultural sector and are looking for live haul transport. We can help you find a custom shipping solution that's designed specifically for you.
Tech That Moves Freight
Our J.B. Hunt 360°® technology makes finding the capacity you need easier than ever. The J.B. Hunt 360 platform gives you access to our company-owned assets, as well as our vast pool of qualified third-party carriers. That's nearly one million trucks available to book right from your smartphone or computer. Simply log on, enter your load details and get a list of market-relevant quotes in seconds.
Our mode-agnostic mindset also extends to J.B. Hunt 360. J.B. Hunt 360 offers several mode options to fit your needs – it's one of the only digital freight matching platforms to offer intermodal shipping.
J.B. Hunt 360 also gives you insights into what mode might be the best fit for your load. The volume-quoting feature helps with those tricky shipments that are bigger than a regular LTL shipment, but less than a full trailer. The platform searches both available LTL and full truckload options to provide you with the best rates for the size of your shipment. And if your mid-sized shipment doesn't fit within the specified size of the volume quote system, the software informs you that paying a full truckload price might be your most economical option.
It's just one of the ways we're working to meet our customers' needs.
Investing in Our Growth
At J.B. Hunt, we're being proactive in investing in our growth to keep up with the demand for capacity. We're growing our intermodal fleet to as many as 150,00 containers, adding assets to our 360box fleet, developing new technologies and innovating creative shipment solutions so we can provide you the capacity you need, when you need it.
See how we have the capacity to deliver by exploring all of our shipment solutions.