J.B. Hunt Increasing Intermodal Capacity to Meet Demands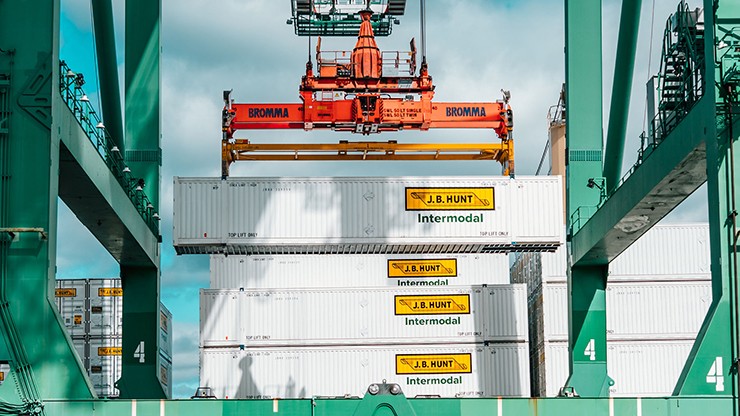 Growing demand and tight capacity continue to impact the intermodal marketplace. Our customers have told us they need more capacity and improved service — and we've listened. J.B. Hunt has pledged to improve the intermodal market for our customers and we're teaming with another intermodal leader to help us accomplish these goals.
J.B. Hunt and BNSF Railway Company have launched a joint effort to substantially improve capacity in the intermodal marketplace.
In the next three to five years, J.B. Hunt plans to grow its intermodal fleet to as many as 150,000 containers – an over 40% increase in capacity from the end of 2021. J.B. Hunt already has the largest company-owned intermodal fleet in North America, and this new initiative will provide additional opportunities for our customers. J.B. Hunt will also be adding more chassis to support the additional containers.
As part of the initiative, BNSF will:
Provide several property locations around key intermodal hubs in Southern California, Chicago and other key markets
Increase efficiency at terminals
Bolster its railcar equipment to accommodate the increase in container capacity.
The increased capacity means more of our customers can take advantage of our intermodal service options that are cost-effective and better for the environment. Our intermodal and transloading services can also be a great option for those shipping internationally.
J.B. Hunt and BNSF anticipate leveraging technology, including the industry leading J.B. Hunt 360°®, to improve efficiencies in rail transport. J.B. Hunt 360's digital freight matching platform is one of the few in the industry to support intermodal services.
Making intermodal shipping more efficient is an ongoing effort for both J.B. Hunt and BNSF. Over the years, both companies have invested billions of dollars to ensure intermodal's ability to grow with customers and meet the increasing demand for intermodal services. This new joint effort is just one of the many steps we are taking to become the most efficient transportation network in North America.
Contact your J.B. Hunt representative about intermodal shipping options today!