J.B. Hunt 2022 Year in Review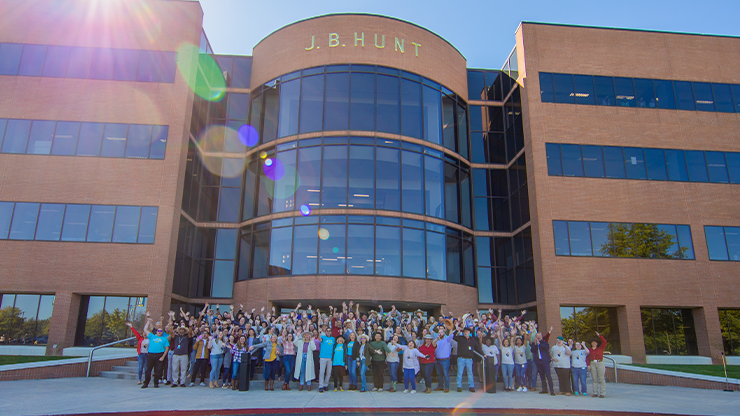 In our more than 60 years of experience, we've learned what keeps and creates the most value for customers — people, technology and capacity. This year, we've formally adopted them as our company foundations to help us build a better J.B. Hunt.
It was a BIG year for J.B. Hunt. Take a look at what we were able to accomplish through our people, technology and capacity in 2022 and what's ahead in the years to come.
People You Trust

Shelley Simpson named President of J.B. Hunt
This year, we announced Shelley Simpson as the new president of J.B. Hunt. During her 28-year career with the company, Shelley has proven her passion for growth, innovation and most importantly, J.B. Hunt. We are excited to have her lead our company toward our mission of creating the most efficient transportation network in North America.
José Goes to Washington
José, a J.B. Hunt Final Mile Services® driver, was chosen to speak and represent truck drivers at the U.S. Department of Labor Hall of Honor induction ceremony, honoring all essential workers during the COVID-19 pandemic. We are proud of how José, and all our company drivers, represent J.B. Hunt and our industry.
Million Mile Celebrations
J.B. Hunt celebrated 69 company drivers who reached million-mile achievements, driving over two million accident-free miles. Among this group, two drivers made company history. Tony, an intermodal driver in Texas, became the second J.B. Hunt driver to reach five million miles. Edwina, a dedicated driver in Arizona, reached three million safe miles, making her the first female driver to reach this milestone at J.B. Hunt.
Inclusion Initiatives and ERGs
In 2022, we launched our sixth company employee resource group (ERG), Cultivating Asian American Pacific Islanders Together as Leaders (CAAPITAL), to provide a space for AAPI employees to connect and share ideas that better J.B. Hunt. In continued support of our military, this year was our ninth year participating in Wreaths Across America, where J.B. Hunt delivered approximately 287,000 wreaths to veteran cemeteries nationwide.
Investing In Education
From the 10th year of Adopt-a-Class, to our new J.B. Hunt Scholarship Program for Families, we made significant investments in education over the past year. To advance supply chain education, J.B. Hunt announced a new $1.5 million commitment to the Walton College of Business at the University of Arkansas, a collaboration that came with the official renaming of the J.B. Hunt Transport Department of Supply Chain Management.
Sustainable Logistics
J.B. Hunt strives to make business decisions that have a positive impact on our communities and our environment, which is why we've set the goal to reduce carbon emission intensity by 32% by 2034. Our CLEAN Transport™ program, announced earlier this year, now provides intermodal customers with an accessible way to obtain verified carbon offsets. We look forward to working with our people and customers to reduce our carbon footprint.
Technology That Empowers
The year 2022 marked five years since we launched J.B. Hunt 360, our digital platform that connects shippers and carriers. Over the past five years, we have invested $500 million to continuously improve the capabilities of J.B. Hunt 360. We're focusing our efforts to take J.B. Hunt 360 from a freight-matching marketplace to the total supply chain management platform of the future.   
The Scheduling Standards Consortium
Recently, J.B. Hunt, Convoy and Uber Freight announced the formation of the Scheduling Standards Consortium (SSC). The SSC is the freight industry's first formal set of appointment scheduling application programming interface (API) standards. This is a huge step forward in addressing challenges in the supply chain regarding how scheduling information is exchanged.
The Power of the Platform
Our technology teams continue to make upgrades designed to improve the user experience of J.B. Hunt 360. Within the platform this year, we made updates that allow us to offer templated mass bookings, hazmat and extreme length options for LTL and the ability to receive an Instant Quote on our webpage. Additionally, with carriers in mind, we added features such as new tracking notifications and auto driver assignments, which help set schedules and remove repetitive manual processes. With these and other user-focused improvements in place, we're adding to the Power of Platform and our goal of providing access to capacity, cost management and better service within a scalable, data-driven ecosystem.
Extending our Autonomous Efforts
In April, we announced a long-term strategic alliance with Waymo Via that will advance innovative efforts to integrate commercial autonomous driving technology in transportation and logistics, with ultimate plans to complete fully autonomous transport in Texas in the next few years. New pilot programs will result from this alliance, as will work to integrate programs with the goal of making Waymo Via accessible through J.B. Hunt 360 technology.
Capacity to Deliver
Intermodal and International Shipping
Intermodal saw growth, including our joint initiative with BNSF. We expanded our ability to handle international shipments with the opening of a transload facility in Southern California, followed by additional facilities in Tacoma, Washington, and Laredo, Texas. Our transloading service now covers four of the largest ocean ports and the largest land port of entry into the United States, providing customers with quick access to rail and highway transportation for international cargo.
J.B. Hunt also named two cargo vessels, the Johnelle and the Johnnie Bryan, that travel between the United States and China carrying new company intermodal containers and freight for customers. The vessels will help us expedite overseas transport and provide our customers with a unique solution for accelerating international cargo movement from Asia.
J.B. Hunt Dedicated Contract Services®
J.B. Hunt had a strong year in Dedicated Contract Services. We continued to grow our fleet in an effort to meet the needs of our customers. 
J.B. Hunt Final Mile Services®
J.B. Hunt acquired Zenith Freight Lines from Bassett Furniture Industries at the beginning of 2022. The acquisition was a significant investment in J.B. Hunt's furniture delivery capabilities, expanding our industry-leading Final Mile Services business unit.
Truckload
This year we added 3,000 new J.B. Hunt 360box® trailers to our fleet to address growing demand for this innovative solution that combines our live and drop networks and helps provide customers with the right truck at the right time. Through J.B. Hunt 360, customers can access nearly one million trucks via qualified third-party carriers.
Creating Value for Our Customers
Every step forward, and every investment in our people, technology and capacity, is an intentional move to create value for our customers. If you're looking to evolve your transportation solutions, J.B. Hunt has the people, technology and capacity to get you where you want to go.
Contact us today to learn about how we can create solutions for your business.