Easier Load Searching with Carrier 360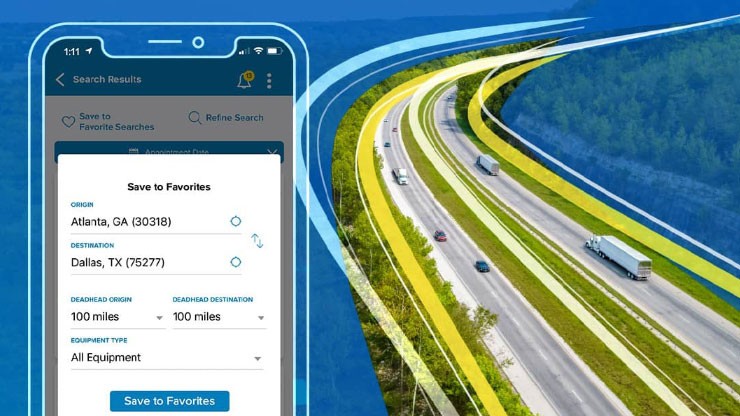 As a carrier and a business owner, you're always looking for ways to save time and simplify tasks without sacrificing quality by leaving jobs like taxes or truck maintenance to the professionals. Why not do the same when it comes to finding freight? Carrier 360™ utilizes digital freight matching technology to increase efficiency and reduce time spent looking for loads.

Save Favorite Searches
Carriers with Favorite Searches move 121% more loads on average than carriers without any Favorite Searches saved.* While filtering through results on the load board, use Favorite Searches to save the combinations you use most often. When you're ready to search for loads for yourself or your drivers, just select one of your Favorite Searches to see all the loads that match what you're looking for when it comes to origin, destination, deadhead miles and more. Each user can save up to 20 searches as favorites – visit our load board to start searching!
See Suggested Loads
When it comes to finding the right load at the right time, Carrier 360 makes it easy. We take into account the loads you book, lanes you prefer and type of freight you typically haul. Carrier 360 delivers ideal loads so you can spend time on other tasks. If we have loads you might like, you can get emails straight to your inbox with all the load details so you can book them easily. (Visit the account settings tab at any time to adjust your communication preferences.)
Get Better Reloads
Carrier 360 helps your business reduce deadhead by showing suggested reloads. After booking, you'll see recommendations for loads that pick up within 24 hours of your scheduled delivery, making it easy to save time and plan ahead.
Whether you're an owner/operator finding loads for yourself or you manage a fleet and have multiple trucks to schedule, Carrier 360 can help you find quality freight. Use our easy load board search, as well as these tools to find your next load.
The more you use Carrier 360, the better it will be at recommending loads you want to haul, so visit our load board or create a free account to get started.
*Based on loads executed using Carrier 360 over a 90-day period