4 Ways to Create Value by Converting Over-the-Road Freight to Intermodal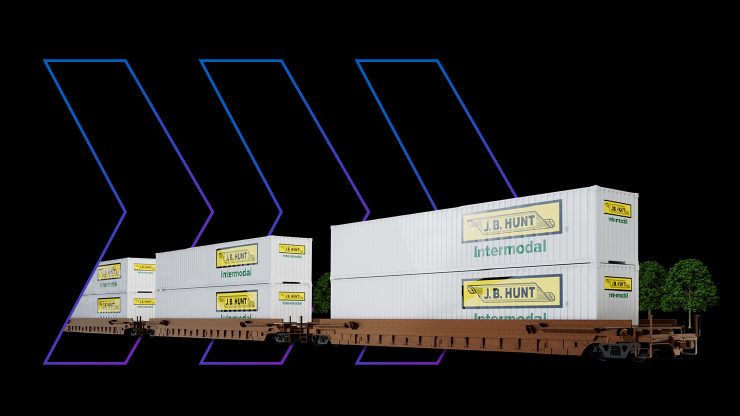 What started as an agreement between J.B. Hunt and the Santa Fe Railroad to get containers from the West to East Coast efficiently has transformed J.B. Hunt into the world's leading intermodal provider. This kind of capability, like reliable capacity and providing cost-savings over the years, provides us with the opportunity to allow customers to pivot, based on their needs, to different modes – like from over-the-road to rail. 
The Benefits of Intermodal Transportation
By allowing customers to switch from over-the-road to rail, we bring value to their business through our ability to provide cost savings, flexibility, reliable capacity and sustainability. Let's take a look at each of those elements in depth:
Cost Savings
Shipping costs are a priority for businesses and intermodal can provide a way for businesses to manage their costs and save compared to over-the-road costs for the same route. Shipping freight via intermodal with J.B. Hunt has the potential to save customers at least 15% compared to highway, even when expedited. 
Flexibility
Shipping intermodal with J.B. Hunt provides the agility to pivot to our over-the-road services as your needs change. We can also expand your impact with our temperature-controlled containers. We also offer expedited shipping on most intermodal loads – giving you all the benefits of intermodal while making transit time close to that of highway.   
Reliable Capacity
J.B. Hunt has the largest company-owned fleet with 116,000+ containers and 95,500+ chassis and a commitment to continue growing that number. This, coupled with our long-term relationships with rail providers that have steadily improved service, means our customers get priority access at terminals and access to destinations nationwide. 
Sustainability
Intermodal transportation is one of the cleanest modes available. Shipping with intermodal reduces a shipments carbon footprint by an average of 60% compared to over-the-road truck transportation, helping us eliminate an estimated 3.6 million metric tons of CO2e emissions in 2022. 
Top-Rated Intermodal Service
J.B. Hunt ranked first on the Journal of Commerce 2023 Spring Intermodal Service Scorecard. For J.B. Hunt shippers, they praised hands-on service, prioritizing regular conversations with customers to gauge market conditions and resolving problems within the intermodal network.
J.B. Hunt creates value for your business with cost-saving options and the capacity to ship all your freight while also decreasing your company's carbon emissions. It's all part of our mission to create the most efficient transportation network in North America. 
Add more value to your business – connect with us or talk to your representative about shipping intermodal!