Simplifying Less Than Truckload: Accessorial Charges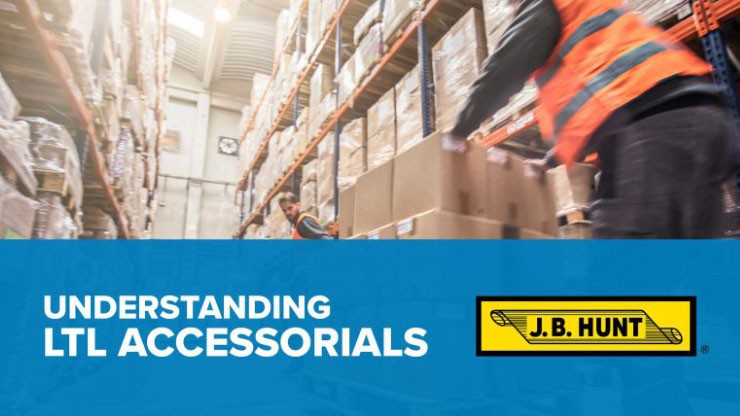 Shipping freight using less than truckload (LTL) service can be difficult to navigate, especially for shippers new to the transportation and logistics industry. Shipping LTL involves many more factors than shipping truckload (TL) . One of the most important factors of LTL shipping is the accessorial.
What is an accessorial?
An accessorial is any additional service provided by the freight carrier – often adding fees to your final invoice. Shippers often fail to identify these needs, resulting in unplanned charges to the Bill of Lading (BoL).
How do I know which accessorials I will need for my shipment?
Those who do not ship LTL often may be unfamiliar with the delivery needs of their shipment. A quick call, email or chat with your third-party logistics (3PL) provider often helps first-time shippers and small businesses determine which accessorials each shipment may need. Accessorial needs must be indicated when booking a shipment. Not doing so can cause additional fees to the BoL, as well as delays in shipping due to the driver or facility not being properly equipped to pick up or deliver the shipment. 
Here's a list of some common accessorials:
Lift Gate Shipping and receiving facilities without a loading dock require a lift gate. The lift gate allows an employee to lift and lower a pallet to the ground.
Inside Pickup/Delivery Added if your shipment requires the driver to enter the delivery/receiving location vs. dropping at dock. Note that 3PLs may have restrictions for inside pickup and delivery. Check with your provider to ensure you understand the parameters of the delivery agreement.
Residential Delivery Shipments needing delivery to a non-business location incur this accessorial fee. Because residential sites do not have a dock, in most cases a liftgate will be a necessary accessorial.
Limited-access Location Added when your shipment is picked up or delivered to a location requiring special access for entry. Examples of this type of location include schools, military bases, jails, government facilities, etc.
Appointment Delivery Added when a delivery requires a scheduled appointment, sometimes with facility representative present.
Sort and Segment Added when items must be sorted and/or segmented by the carrier during pickup and/or delivery. Typically, goods must be sorted and/or segmented (sometimes referred to as segregated) by brand, flavor or other distinguishable characteristic(s). Often, these deliveries must be sorted on the dock or by pallet.
Extreme Length Applies to oversize shipments. These fees cover the cost of using specialized equipment, as well as meeting regulations for such shipments.
California Compliance Goods being shipped to or from California must meet special requirements set forth by the state. Carrier companies must adjust their equipment and shipping practices to meet such regulations.
Reweigh/Reclassification Added if the goods in the shipment are not properly classified or weighed. When this action must be taken, the BoL requires adjustments and additional fees for a corrected BOL apply.
Corrected BoL Anytime the Bill of Lading requires changes due to improper information.
There are many more accessorials that could be necessary for your shipment. Typically, accessorials are necessary if the delivery is not simply a pickup and drop-off situation. Speak with your account representative – they can help ensure you have captured all needs on the Bill of Lading.