4 Elements that Define a Quality Last Mile Delivery Provider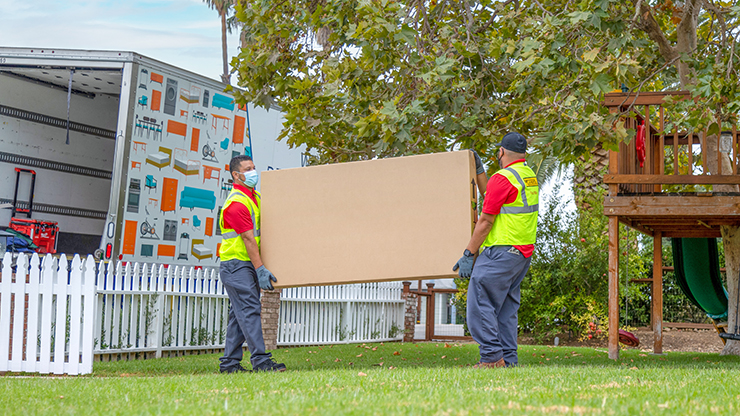 Last mile service refers to the planning and execution of the last delivery leg for big and bulky merchandise from a retailer or manufacturer into the home of a consumer. Big and bulky products include furniture, appliances, TVs, mattresses, and more – anything that won't fit the size, weight, handling, or service requirements of parcel carriers or the postal service. The need for this delivery service continues to increase as consumers purchase these items online and traditional brick-and-mortar retailers streamline their omni-channel fulfillment processes. Choosing a last mile delivery provider is a big decision that impacts multiple facets of a business, and providers are not built equally. Here are four traits to look for when selecting a provider.

1. Coverage and capability required to shorten delivery times
Consumers generally want their merchandise as soon as possible. To accomplish a speedy delivery, a provider must have delivery resources – strategically placed distribution centers and delivery teams – close to where consumers live. An established nationwide footprint is critical to improving speed to market.
2. Expertise in home delivery – not just "delivery"
Home delivery is more complex than a standard "drop" delivery. In addition to the size and cost of the merchandise that require special handling, home delivery personnel operate inside the homes of consumers – that's a big deal. Choose a provider with committed individuals that demonstrate high standards for interpersonal communications and etiquette. The right people drive a consistent, quality experience that creates repeat customers.
3. Technology to manage shipments and improve visibility
Unlike a parcel stop, a delivery into the home requires an appointment that can be a burden on a consumer's schedule. Top-notch providers offer real-time arrival estimates using a predictive algorithm fed by tracking historic stop data and live traffic patterns. Technology can also help drive routing efficiencies, monitor demand trends, forward stock the right merchandise, and streamline reverse logistics. Working with a provider that offers cutting-edge technology is key to satisfying both the demands of consumers and the dynamic business model required to service them effectively.
4. Engaged delivery and support teams to address concerns
When retailers aren't directly facilitating consumer deliveries, the last mile provider is responsible for delivering quality customer service. And, expectations are high. Delivery teams act as brand ambassadors for the company inside the home. They're also a consumer's first line of customer service when questions or concerns arise. This sentiment is especially important in e-commerce deliveries, representing a consumer's first impression, or touch, with the new couch for the family room. Providers that offer consumers the help of an empathetic customer support team in addition to knowledgeable delivery teams result in a higher quality experience for consumers, retailers, and manufacturers.
If you're trying to expand your delivery network or struggling to compete in the new e-commerce market, evaluate your last mile delivery strategy and consider J.B. Hunt. Our Final Mile group services the entire country via the largest cross dock network in the industry, and offers both commingled and dedicated solutions for big and bulky deliveries to homes, offices, or job sites. To discuss how J.B. Hunt Final Mile can meet your business needs, email finalmile@jbhunt.com or call 877-288-8341.