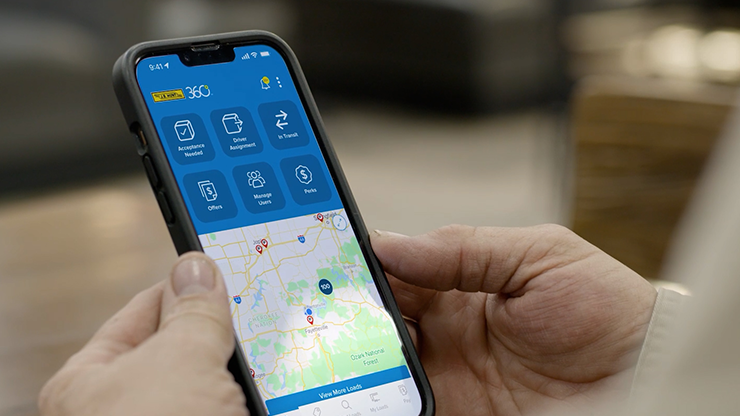 At J.B. Hunt, our mission is to create the most efficient transportation network in North America.
Three foundations guide us on this mission. J.B. Hunt has for more than 60 years provided people you trust and capacity that delivers. We're creating additional efficiencies with our industry-disrupting J.B. Hunt 360°® technology, built to connect people to capacity and make their logistics journey easier. Our people, technology and capacity provide a formidable combination that separates us from the rest of the freight industry.
Our founder, Johnnie Bryan Hunt, knew the future of freight was in technology. In the early 1980s, Mr. Hunt invested in a mainframe computer and declared that one day all freight would go through a J.B. Hunt computer. Forty years ahead of his time, Mr. Hunt was investing in and growing our technology.
With that initial investment, Mr. Hunt helped create a culture of technological innovation within J.B. Hunt. We've grown from a trucking company to a leader in digital freight-matching technology.
Keep reading to see how J.B. Hunt's technology helps us better serve our customers, makes drivers' lives easier and improves efficiency in our day-to-day operation

The J.B. Hunt 360 Platform
J.B. Hunt disrupted the market when we launched our industry-leading digital freight matching solution, J.B. Hunt 360.
We launched the platform because the market was deeply fragmented. Freight data is stored on countless company and carrier TMS and ERP systems around the world, and these systems don't often communicate with each other. The supply chain cannot be at its optimal efficiency in this environment.
J.B. Hunt 360 addresses the fragmentation in the market by directly connecting shippers and carriers through an online marketplace. Through the power of the J.B. Hunt 360 platform, supply and demand are brought together in a scalable, data-driven ecosystem that connects shipments with capacity at the right price and at the right time – providing access to capacity and freight, reducing costs and improving service.
J.B. Hunt 360 is made up of two components: the Shipper 360™ platform and the Carrier 360™ platform.
For shippers, Shipper 360 offers:
Transparency and visibility from quote to delivery
Better cost management by letting shippers choose the market-relevant quote that works for their budget
Access to capacity through an expansive array of company-owned assets and a pool of qualified third-party carriers
Multimodal transportation options, including truckload, less-than-truckload and intermodal
Tracking capabilities
API and EDI integrations
For carriers, Carrier 360 offers:
Customizable search filters to make finding loads and reloads quick and easy
Free quick pay so carriers can be paid for qualifying loads in as little as two business days
The ability to see reviews of facilities and amenities before booking a load and the option to add comments and ratings
In-app check calls that make checking in fast and easy
Carrier perks to help carriers save on fuel, maintenance and everyday costs
J.B. Hunt DRIVE App
We're a company founded by a driver for drivers. With every decision we make, we do so with drivers in mind. We created the J.B. Hunt DRIVE app to help keep our employee and contractor drivers safe on the road and give them access to almost anything they need in their day-to-day work.
For company drivers, the app tracks safe miles driven, days since a preventable accident and more to document a driver's overall safety score. The app also lets company drivers view and submit training assignments so drivers can be up to date on the latest safety protocols, laws and equipment.
The app also helps improve communication while drivers are on the road. Through the app, drivers can view their schedule, load and route information. If a problem arises, J.B. Hunt personnel and safety professionals are available at the touch of a button.
Safety Technology
Safety is a top priority at J.B. Hunt. We strive to equip our fleets are with the latest safety equipment, including:
Automatic onboard recording technology that helps manage compliance with Hours-of-Service regulations and reduce roadside inspection violations.
Forward collision warning systems that warn drivers when there is a threat of a collision and include emergency braking systems. More than 98 percent of our Class 8 tractors are equipped with this feature.
Video recording equipment with forward-facing cameras that provide lane departure warnings and enhanced radar functionalities, such as one that helps the tractor brake if it approaches a stationary object. J.B. Hunt is also adopting rearview digital camera technology that expands driver visibility and improves aerodynamics and fuel economy.
Tech that Moves Freight Forward
For decades, J.B. Hunt has recognized that the future of freight is in technology.
Our technology gives all our stakeholders – including shippers and carriers – visibility and transparency into the entire transportation process from quote to delivery. Our technology makes the supply chain more efficient and equips drivers with the tools they need to stay safe on the road.
Our commitment to technology is an ongoing endeavor. We're listening to our customers and drivers to improve our apps to serve them better. We're developing new technologies, integrating with other platforms and adopting machine learning to create powerful tools that not only help connect loads to capacity, but that also make doing business easier and more efficient. We're trying new ways to use technology to make us more sustainable, including testing autonomous vehicles.
At J.B. Hunt, we're not only creating technology that moves freight forward. We're creating technology that empowers.