J.B. Hunt Middle-Mile Logistics Gains Pacific Northwest Reach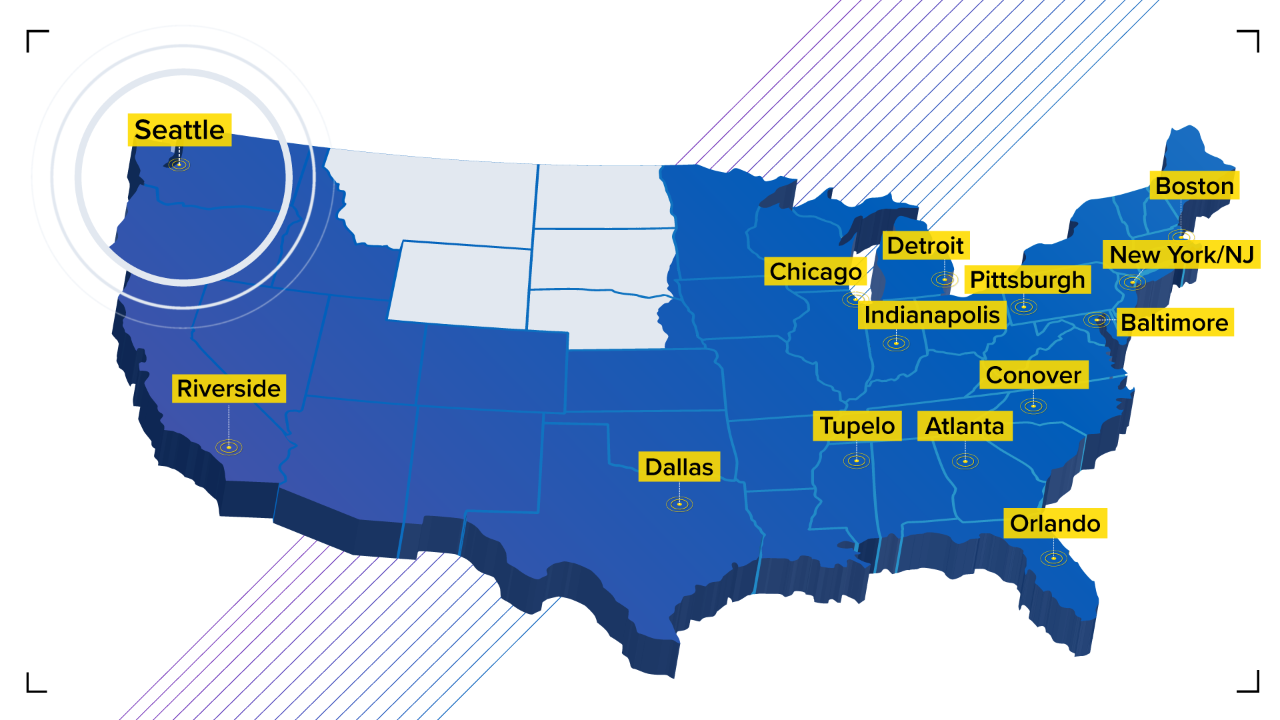 At J.B. Hunt, we're expanding our middle-mile logistics reach to provide new levels of cost savings and added value for our customers. We've opened a new terminal in the Pacific Northwest to serve those shipping into or out of Washington, Oregon and Idaho – supporting their specialized furniture less-than-truckload (LTL) delivery, pool distribution and shipment consolidation needs.
Pacific Northwest Terminal Capabilities
From this terminal, J.B. Hunt account managers can help oversee shipments while trained and trusted drivers keep freight moving for delivery. Plus, the terminal's location allows for straight truck deliveries into the metro markets of the region.
Standout offerings from the Pacific Northwest terminal include:
Specialized Furniture LTL: We understand the specialized handling and shipping requirements of furniture and take care to transport it safely. Which is why we can boast low product damage rates for our specialized furniture LTL services.
Pool Distribution: The Pacific Northwest terminal acts as a new pool point distribution location for us to utilize when moving products through the region. Shipments can be brought to this location for pooling and short-term storage in anticipation of consolidation before delivery.
Consolidated Shipments: Combining or consolidating shipments creates options for single delivery, which means it can take fewer carriers and touch points to complete successful deliveries.
Thanks to the new terminal, we can connect shippers located almost anywhere in the U.S. to delivery capabilities in the Pacific Northwest. If a retailer is in Washington, Oregon or Idaho, our drivers can pick up furniture from multiple manufacturers across the country, use the terminal as a hub and finally deliver the products to the retailer's warehouse or showroom. And if shipments need to arrive faster, shippers have the option to utilize zone-skipping methods during transport for more efficient delivery.
The Benefits of Shipping with J.B. Hunt
By extending our reach with the Pacific Northwest terminal, we give our customers more options for customized solutions and pass on opportunities for savings in transportation and distribution costs that may not have been previously available. When your manufacturers choose to ship with J.B. Hunt, these opportunities carry over to benefit your entire supply chain.
You can fill out our form to connect with a J.B. Hunt representative and learn more about how routing the shipment of your products with J.B. Hunt can give your business a competitive advantage – let us help get the process rolling for a smooth transition!