Our Mode-Neutral Model Helps You Meet Your Business Goals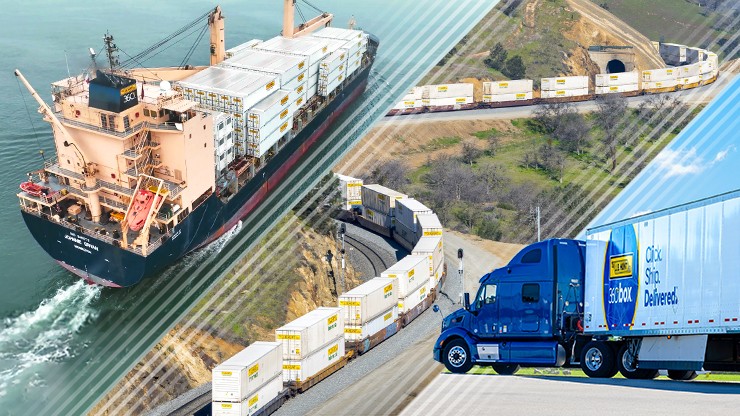 At J.B. Hunt, we recognize no two businesses are built the same and neither are their shipping needs. Moreover, we know that your business' shipping needs might not be the same from one day to the next.
J.B. Hunt utilizes a mode-neutral transportation model that allows us to provide access to any type of capacity on demand and at scale. Today, you need 10 shipments and tomorrow you need 10,000 shipments? We've got a solution that works for you in either scenario. At J.B. Hunt, we have the infrastructure and capacity to meet your business where it is today and work with you to build a supply chain that helps your business grow in the future.
Keep reading to learn more about what mode neutral means and how it benefits you and your customers.
What is a mode-neutral transportation model?
J.B. Hunt is more than your traditional, long-haul trucking company. We offer a variety of innovative, multimodal shipping options and technology that empowers customers to use the option that works best for them. Our multimodal shipping options allow us to be flexible in the way we ship your freight – or mode neutral.
For more than 60 years, J.B. Hunt has been growing and investing in multimodal shipping options to better serve our customers. Our drive to find creative shipping solutions and our mode-neutral mindset come from our devotion to our customers. We're not afraid to disrupt the industry or ourselves to pursue the next big idea in logistics if it will benefit our customers. Our investments in a mode-neutral model mean we can offer our customers more than the standard truck or rail shipping options. With our vast array of service offerings, we can find each of our customers a transportation option that meets their unique needs.
If you are shipping perishables, we offer refrigerated truckload and intermodal. Have a shipment, but it's not enough to fill an entire truck? We offer less-than-truckload solutions.
Here are some of the modes we use or can combine to provide the best solution for your business:
How a flexible supply chain benefits your business
Our mode-neutral model helps you add efficiency to your supply chain. With access to an array of shipping solutions and a pool of nearly one million trucks via qualified third-party carriers, we not only have access to the capacity to get your freight where it needs to go, but we also have the means to get it there in the most efficient manner possible.
When you need it, we have route engineers ready to help you find a custom shipping solution that maximizes efficiency and helps you meet your business goals. Dynamic routing gives our engineers the flexibility to optimize your supply chain based on your changing freight volume, resulting in fewer truckloads and faster deliveries.
And our multimodal service offerings mean there's a shipping solution for every budget. For example, if highway capacity is at a premium, our engineers might suggest converting the load to intermodal for a more economic option.
Our J.B. Hunt 360°® platform also helps you manage costs by giving you unparalleled transparency into the quoting and booking process. With J.B. Hunt 360, get market-relevant quotes in seconds and choose the one that works for your budget. There are also built-in tools within the platform that help you get the most bang for your buck. For example, our volume-quoting feature helps you with those tricky mid-sized loads. When you book an LTL load, it automatically runs the numbers to determine whether it's better to book LTL or truckload based on your shipment size.
Weathering market conditions
Today's market is a volatile one. But the size, scale and density provided by our mode-neutral model gives us the flexibility to handle your live and drop loads simultaneously. 
We know your shipping needs change. But our drop and hook solution, J.B. Hunt 360box® – powered by the J.B. Hunt 360 platform – can help you scale your drop shipping capabilities. J.B. Hunt 360box gives you more flexibility and scale, no matter your shipping strategy.
360box offers both truckload and intermodal capacity options that can be used in any lane and for any destination. With 360box, drop networks are integrated with live load networks so we can help you find the most efficient lane for your shipment. We'll go anywhere, anytime for our customers.
Shipment solutions that fit your needs
No matter the size of the load, or market conditions, J.B. Hunt has a shipment solution that fits your needs.
Contact your J.B. Hunt representative about your shipment needs today and your long-term supply chain planning tomorrow!