Top 5 Ways to Create Value in Your Supply Chain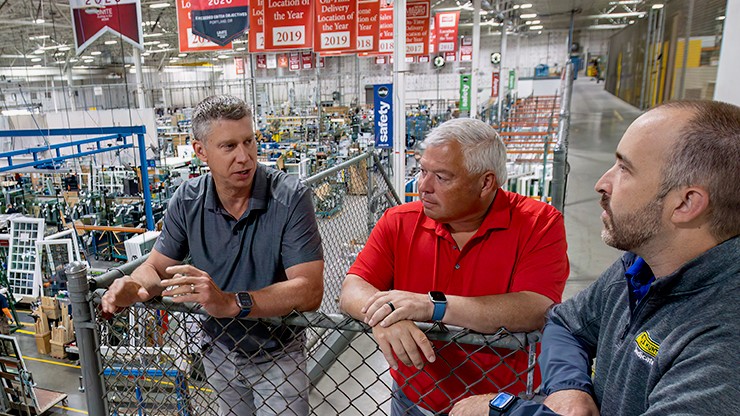 Businesses should develop and maintain relationships with organizations focused on adding value to their operations – especially while navigating the complex world of transportation and logistics. When you work with a reputable logistics solutions provider, such as J.B. Hunt, you will discover new levels of support as we strive to identify supply chain inefficiencies that can help you add value to your business.
If you want to improve your supply chain management processes, consider the following five concepts:
1. Use a tailored solution. 
Every business comes with its own set of unique challenges and circumstances. So, why would you rely on a one-size-fits-all solution for your freight delivery?
J.B. Hunt teams are skilled at providing personalized customer service to build tailored solutions that can be scaled and optimized to fit any budget or business size. Whether you need to move container cargo across the country, deliver furniture from warehouse to home or use dedicated fleet management services, we have a variety of freight options – so you won't have to settle for a menu of pre-set logistics services.
2. Consider a mode-neutral approach to freight shipments. 
J.B. Hunt loves truckload freight. After all, that is how we got our start. But if your shipments have a long distance to travel, it may be worthwhile to consider a mode-neutral approach to your transportation.
Utilizing a mix of services, like over-the-road (OTR) highway and outbound intermodal, can help you save money by opening new opportunities for supply chain customization. Additionally, employing our intermodal rail services aids in reducing your transportation carbon footprint by lowering overall fuel consumption.
3. Do not forget about the last mile. 

Your shipment made it to its destination city – fantastic! Now, how do you get it from the terminal to the customer? Many carriers might be able to deliver your freight directly to a terminal. But that may not cover the all-important last-mile delivery.
If you require door-to-door delivery, you have different factors to consider that can drastically alter your transportation costs and needs – such as accessorial expenses, product installation and haul-away services. Thanks to our investments in Final Mile Services® solutions and dedicated delivery professionals, we are confident in our ability to create customer value at every mile.
4. Leverage technology. 
When booking a freight shipment, you should consider what methods your provider offers to track shipments while in transit. A good logistics provider will offer a technology platform that provides visibility, transparency and accurate reporting.
Our J.B. Hunt 360°® platform makes the logistics journey easier for shippers and carriers by connecting them through an online marketplace to provide capacity, reduce costs and improve service. On the Shipper 360™ technology, you can get quotes, schedule shipments, track freight and create custom shipping reports.
5. Engage a reliable, reputable brand. 
Remember, you do not have to manage your logistics alone. Your best ally could be a trusted third-party logistics provider (3PL) that practices Customer Value Delivery® methodology to make your shipments a priority. J.B. Hunt is an over 60-year-strong logistics solutions provider with teams committed to providing top-notch support for our customers.
Learn more about how the solutions we build create greater customer value through every step of the transportation process – fill out our form to connect with a J.B. Hunt freight specialist today!