Reevaluate Your Capital Allocation with J.B. Hunt Dedicated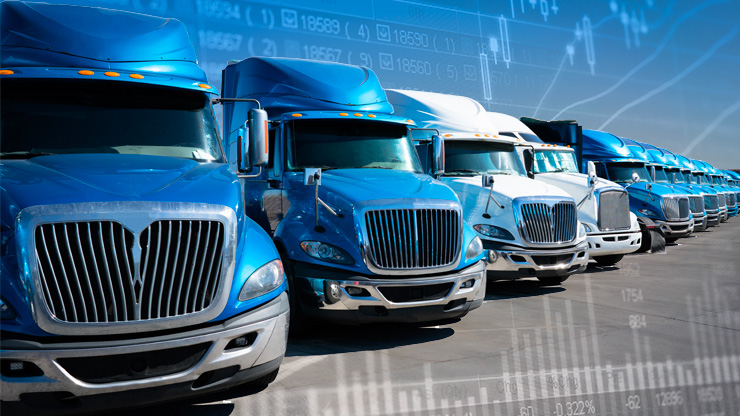 Fleet owners understand that current economic conditions are affecting the market and will most likely affect the way they handle the capital allocation for their business moving forward. Something that many may not consider is what that could mean for the future of their private fleet – especially when they must start making hard choices about when and where to spend capital in an already tight market. Have you considered if you're allocating capital in the most beneficial way for your business?
Some of the trends surrounding capital allocation that we've started to see and will continue to see in the coming months include:
Capital price has risen and will likely continue to rise as interest rates and inflation climb.
Decision-makers will face hard choices concerning their business – like having to pick between investing in their core business or replacing trucking assets and equipment.
How will your business maintain balance?
J.B. Hunt Dedicated Contract Services® teams can provide stable, dedicated trucking solutions that you may not have considered in the past. We continue to invest in the necessary equipment, technology and drivers needed to power your fleet and can help ease your worries when it comes to allocating your business' capital for transportation in the future. We invest so you don't have to.
Capital Cost Implications

Unfavorable market conditions – thanks partly to higher interest rates and inflation – may strain the ability to obtain and finance business assets in the next 12 to 18 months. These conditions will increase the cost of operations considerably, and the more leveraged a business is, the more operating costs increase. When capital costs go up and loans taken out become more expensive, financing previously planned purchases might cause businesses to become more indebted than ever before. Interest rates for borrowed funds will increase – meaning businesses will feel direct pressure against their capital investments.
For example, let's consider a business that financed 20 tractors last year at a 10% interest rate. If each tractor was $150,000 (a conservative estimate), the total amount financed would be $3,300,000, with the purchase price and a year of interest added together. This year, with interest rates climbing, the amount needed to finance the same equipment would be much greater. If those 20 tractors are still $150,000 each this year but the loan interest rate has climbed an additional 2.25% to match the increase of the federal funds rate, you can tack an additional $67,500 onto that initial amount.
Keep in mind these are all conservative estimates – if your initial financed amount or interest rates are any higher you could be looking at capital increases in interest rates alone at over $100,000. And when you start compounding those numbers for a financing term that lasts for several years or consider that the base rate of the tractors has likely increased due to inflation, the difference is even more staggering. Imagine if you could free up a large amount of that $3.3 million that you'd regularly be budgeting to spend on transportation equipment and instead spend it on your core business – how much could you benefit?
Prioritization of Capital
When the federal funds rate was lower, investing in additional lines of business via loan was more viable. Now, both inflation and interest rates are rising. Fleet owners must better prioritize what and where they're spending. When running your own private fleet, this forced selectiveness may leave you having to choose between the growth and improvement of your business or the acquisition and replacement of trucking assets.
Failing to prioritize capital can leave businesses vulnerable to many kinds of detriments. For example, if capital is incorrectly prioritized and located to the wrong areas of the business, you may be left being unable to replace your fleet or equipment at the correct intervals. Not being able to buy or trade at the necessary intervals could mean drastic delays that can result in more downtime, increased maintenance costs, poor service and driver dissatisfaction – to name a few.
Bringing Our Customers Balance
Managing logistics and all its various aspects can be an overwhelming amount to balance while also trying to focus on the well-being of your business. But at J.B. Hunt, our balance sheet is strong enough to support our customers – we invest in assets on their behalf so that they can spend their capital on greater return opportunities for their business.
We've assisted one of our dedicated trucking customers, a food manufacturing company, with their fleet management to create added value for their business. Once they began working with our dedicated services division, we could turn around and invest $40 million in trucking assets on their behalf. We freed up capital for the customer – allowing them to spend money on assets that help grow their business instead of trucking equipment. Over the last six years, this customer has grown their business 65% through acquisition and organic growth. With our Dedicated Contract Services teams handling their logistics, the customer can remove the extra expenses that come with paying for trucking assets from their balance sheet.
Experience the Dedicated Difference
It's time to reevaluate where you allocate your capital. J.B. Hunt does the work to invest in trucking assets for our customers to provide them stable transportation solutions through our Dedicated Contract Services® fleets. Thanks to our wide network and connections, we can source equipment that fits our customers' needs. And you get the benefits of a private fleet, with less of the risk – in both investment and management.
Our dedicated services offer transportation stability and a chance for you to focus on your core business while we handle the logistics. Let's roll into the future together – confidently. Connect with us now!
dedicatedsales@jbhunt.com| 800-723-3101 | jbhunt.com/dedicated