4 Ways Our Dedicated Logistics Solutions Help Manage Costs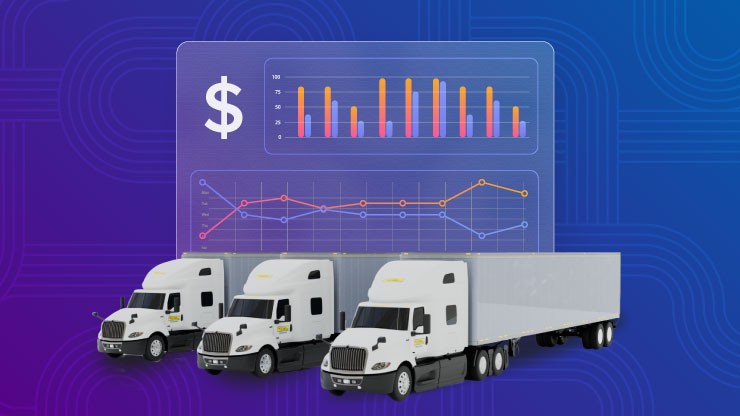 During times of economic uncertainty, it's important for business owners to take measures that will help manage the costs of their operations. This is especially true in areas where capital may slip through the cracks – like transportation.
The Dedicated Contract Services® teams at J.B. Hunt take each piece of a customer's business into careful consideration when building the best transportation solution for their operations. This aids in creating or identifying cost savings that may have previously been overlooked. Four ways that our teams have found to help manage transportation costs for customers include:
Offering a range of program customization options
Dedicated freight optimization through engineering
Usage of Customer Value Delivery® (CVD) methodology
Leveraging our unmatched market density
1. Transportation Program Customization
Thanks to the mode-neutral model we utilize at J.B. Hunt, we can employ a mix of shipping options for our dedicated customers – such as truckload, less-than-truckload (LTL) and intermodal services – that allow for complete transportation program customization.
Offering a wide range of customization options for our transportation programs creates flexibility and opens the door to further opportunities for cost savings that may not have been available under the constraints of other programs. We work hard to understand your business and offer solutions that can be more efficient without sacrificing service expectations.
2. Optimization Through Engineering 
At J.B. Hunt, we've invested in top-notch technology that supports our overall engineering efforts – because we know that proper optimization through tech-powered engineering is key in creating an efficient and cost-effective transportation program.
Our company's mission is to create the most efficient transportation network in North America. We're skilled at evaluating customer operations and finding areas that could be optimized for efficiency to assist in managing costs. Our engineering work helps current customers achieve higher levels of optimization to create ongoing savings. We can optimize dedicated freight routes, delivery cycles, driver coverage and much more to put money back into our customers' pockets.
3. Customer Value Delivery (CVD) Utilization
CVD is our proprietary methodology that helps us anticipate customer needs while providing a best-in-class customer experience to generate added value. Launched within our Dedicated Contract Services business unit in 2001, it contributes to our 98% customer retention rate, and is embedded in the culture of our teams.
When our teams utilize CVD as they build solutions, it prepares them to focus on areas that may need improvement or adjustment – this includes looking for cost savings along the way. Equipping our logistics professionals with CVD methodology sets them up to better evaluate operations based on specific customer needs to assist in managing transportation costs.
4. Unmatched Market Density
We pride ourselves on our ability to provide total transportation coverage to our customers. How is it possible for us to offer this flexible coverage to customers across the United States? Our market density is one of the most important aspects that contribute to our success.
Because of our density, customers don't have to worry about things like sourcing equipment or drivers when they need them, or in many cases, paying for them when they don't. They know J.B. Hunt has the necessary resources to offer support when they need it. Our sourcing abilities keep transportation operations rolling smoothly for our customers and result in cost savings that we can pass on.
Don't Lose Money to Logistics
Our Dedicated Contract Services teams are trained logistics professionals who are skilled at building cost-saving solutions for our customers. Stop losing money in the transportation shuffle. Get guaranteed capacity at a pre-determined contract rate when you start working with the teams at J.B. Hunt – fill out our form now to get started.