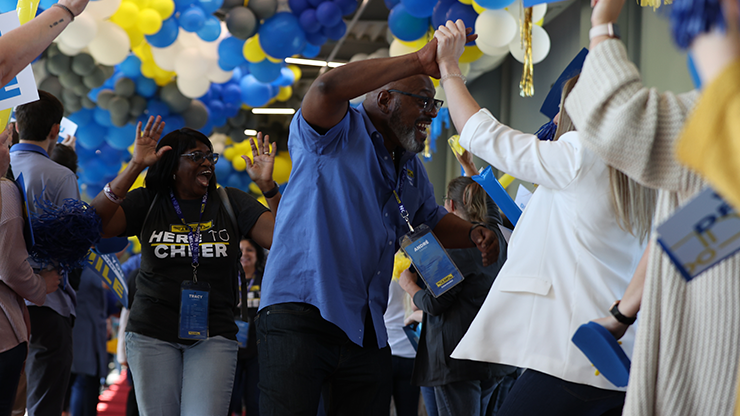 No matter their pursuit, J.B. and Johnelle Hunt brought passion to the dreams they were chasing.
Even in the earliest days of J.B. Hunt, they dedicated everything they had to grow the company – not just for themselves but for the people depending on them, too. The spirit and energy that the Hunts brought to the company each day helped evolve it from a business that was established to find new uses for rice hulls into the Fortune 500 transportation company everyone knows today. Even after 60 years, we continue to build a company culture that reflects upon the spirit Mr. and Mrs. Hunt first instilled.
Our workplace culture has created a truly great place to work for so many – we have 33,000 employees, with 24,000 of those being drivers. These are the people you trust to drive our trucks and work hard to get freight right where it needs to be. Each of our employees brings experience, an individual spirit and a passion to their position and we welcome that individuality wholeheartedly.
We're building more than a workforce at J.B. Hunt. We're building a family.
It Starts with Talent Acquisition
Each unique area of J.B. Hunt works together to create a cohesive experience for everyone we work with. It all starts with hiring the best and the brightest in the industry to form a strong base of people to support that experience. We find top candidates, get them onboard at J.B. Hunt and equip them to best represent our company behind the desk, in the field or on the road.
People come to us for all different kinds of transportation solutions and we understand that each logistics journey is unique. It takes the people power behind J.B. Hunt to keep those different journeys rolling. We take the time to cultivate top talent who will contribute to the solutions we offer.
Our Say-Do Culture
J.B. Hunt can call itself a say-do company because we honor our commitments to the people we work with and our employees alike. We hire and train people with their strengths in mind – committing to their growth, then building upon their strengths while making safety a high priority. We do this to create a strong workforce and cultivate an environment of empowerment.
J.B. Hunt drivers complete thousands of hours of training through hundreds of unique courses with safety at the forefront of it all. All our company drivers receive training and certifications specific to the industry they'll be working in. This safety standard doesn't just apply to our drivers though. Safety is a focus throughout each of our employees' careers. We utilize tools and technologies company-wide that promote a culture of safety and accident prevention.
We also celebrate our drivers through our Million Mile Safe driving recognition and awards program. Our Million Mile program promotes an overall culture of safety among our employees by turning safety into a celebration!
More Than an Employer
J.B. Hunt invests in our employees and our culture to create even more opportunities for career growth and advancement. We are led from within, encouraging our employees to join employee resource groups that work to create an environment where each person can be their authentic self. We want to make sure that each employee has the chance to be heard while making a difference as well.
Our Employee Resource Groups (ERGs):
Giving everyone a voice:
Driver Experience - Improving driver quality of life through empathy and open lines of communication between management, operations and drivers.
ELEVATION - Our open-idea forum for employees to submit any idea on any topic that will improve our company.
Inclusion - Creating an open, inclusive workplace for our employees, their families and communities.
We make these investments in our culture because we want each of our employees and those interested in becoming an employee to feel like they have a place within our organization. It's these investments that set J.B. Hunt apart and gains us recognition as a best employer for diversity. We've created an environment where our people know they can trust us as a company, which in turn creates a base of people that you can trust being in business with.
People You Trust Are at J.B. Hunt
So, what does this all mean for you?
It means that you can trust us to carry on the people-first commitment originally instilled by Mr. and Mrs. Hunt. And that when you choose to work with J.B. Hunt for your transportation solutions, you are going to be working with people you trust. Our employees utilize technology that empowers and have access to the capacity to deliver for your business. Each of these elements come together to create the logistics company everyone knows as J.B. Hunt.
Are you ready to have our expertise on your side? There's someone at J.B. Hunt waiting for you.