J.B. Hunt at 60: Our Service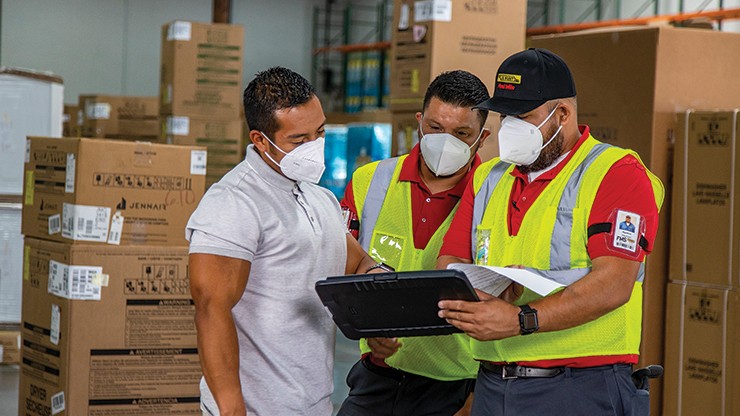 In this multi-part series, we dive into the key components driving our mission to create the most efficient transportation network in North America. Those include building a talented workforce unlike any other, thinking big and taking risks, and the topic of this feature — offering stellar customer service.
Spoiler alert - it's been 60 years in the making.
Great customer service is a bedrock value of J.B. Hunt. It's simple, really: We say what we will do, then we do what we said we would. This "say-do" culture is something our founders practiced and have passed down.
Johnnie Bryan Hunt did right by others before he officially incorporated J.B. Hunt in 1961. As a driver in the 1950s, Mr. Hunt had driven a regular route between Little Rock and St. Louis that put him on the road two nights a week. As he and his wife, Johnelle Hunt, built their poultry litter and trucking businesses in the following decades – eventually becoming one of the largest publicly held trucking companies in the U.S. – the Hunts never swerved from putting integrity and the customer first at every level of growth.
Nick Hobbs, chief operating officer and president of contract services, saw it up close and personal.
In the 1980s and 1990s, Hobbs accompanied Mr. Hunt on many customer visits and fondly remembers the founder's outgoing personality and ever-present Stetson cowboy hat.
"He had a vision about where he wanted to go and what he wanted to do and how he wanted to solve problems," says Hobbs. "But he was also a good listener to the customers," seeking to understand their pain points so the appropriate solution could be figured out.
Hobbs adds that Mr. Hunt and Paul Bingham, a longtime J.B. Hunt employee and senior vice president of sales, "taught us to listen and to think outside the box to create a solution for the customer. If you continue to find solutions for your customers, they're going to keep coming back to you for all things."
True listening — a simple yet profound act that lets us grow beside our customers. The feedback we've collected has played a big role in the expansion of our business into multiple services like Dedicated Contract Services®, Final Mile Services®, and J.B. Hunt 360box®.
In Logistics, Agility Amid Ups and Downs
The multiple services that J.B. Hunt now offers allow maximum flexibility in mixing and matching modes to best meet customer demands. "If a particular client wants to move something over the road and we're unable to do it over the road, then we will convert it to intermodal, and vice versa," says Brandon Taylor, vice president of transportation. "Whether something has happened during a transcontinental move, and with intermodal, there may be congestion at the ramp, we will go ahead and provide a solution where you can move it over the road."
The world of transportation is a rapidly shifting one where thoroughly understanding customers' pain points is a must.
That's why over the last couple of decades J.B. Hunt has honed a process that makes sure we stay in lockstep with their needs while building North America's most efficient transportation network.
At regular intervals, J.B. Hunt and customers meet to "walk through the work that we do together," as Paul Bingham explains. "We walk through the data and formulate insights off of that data and we share what we can do different that helps our customers to reduce costs, drive efficiency and ultimately render a better service."
"It's a continuous improvement program," adds John Vargo, senior vice president of operations. "It starts on the front end, understanding what their needs are, developing a solution to meet that need, and then meeting regularly to track our progress."
These kinds of conversations are one of the ways that J.B. Hunt stays so responsive to customer needs.
Agile service in the face of an unexpected or sudden change in market condition helps us make sure we keep our commitments to customers and drivers alike.
For a case in point, look no farther than spring 2020, when some businesses saw a sharp decline in demand, resulting in many stores nationwide cutting hours in the wake of the pandemic's onset in the U.S.
At the same time, demand for over-the-road trucking was surging as grocery sales spiked. So, J.B. Hunt temporarily reallocated drivers and company assets in the routes servicing the hot grocery market. Juggling all those transitions wasn't easy for operations employees, but ultimately the extra effort led to benefits for all parties involved.
These kinds of unplanned market shifts, of which the Great Recession from 2007 to 2009 is an example, test companies' mettle, says John Kuhlow, chief financial officer and executive vice president.
"We'll talk a lot about culture and hard work but when you're tested in those times, that's when you really see what you're made of. And I thought with that both in 07, 08, 09 and last year, I thought we did a phenomenal job of just understanding what's really important."
Sustainability in Transportation
Craig Harper, chief sustainability officer and executive vice president, says that J.B. Hunt's agility is part of a necessary open mindedness.
"I think the company has always been open to new ways of doing things, new types of businesses," he says. "And that's how we have morphed through the years and really turned the direction and reset ourselves."
Harper sees J.B. Hunt's ability to pivot based on market conditions and customer needs as a critical part of building a more sustainable transportation network. Whether it's by embracing battery electric technology in short haul trucking or hydrogen fuel cells in long haul trucking, "I think we're going to play a big part in helping the customers with their overall carbon footprint," he says.
"We're going to have a lot of collaboration because there's going to be infrastructure changes that need to happen at the customer side," he adds. "There's going to have to be the willingness to try and experiment with different types of vehicles."
"But I know we can do that. I know we have customers that are going to be willing to do that, and I think we can be on the forefront of working with this technology and putting the right technology with the right customer."
Regardless of what technologies J.B. Hunt employs on behalf of its customers going forward, safety will stay at the core of what we do. That extends to every part of the business, from operations and equipment to maintenance to drivers.
"When we onboard employees we want to make sure that they understand the right way to do the job," Vargo says. "That includes material handling training, installation training, onboarding in terms of driving, and making sure that use of all of our technology and equipment so that they're protected and safe."
Greer Woodruff, senior vice president for safety, security and driver personnel, adds: "I think one of the things that really differentiates J.B. Hunt from others is we have really high standards to join the company. We have high expectations; we're serving our customers a safety culture that allows drivers to perform their best work."
As the transportation industry continues to evolve, expect J.B. Hunt to keep adapting right alongside it.
Spencer Frazier, senior vice president of sales, says: "With the things that we're going to do for our customers, you can count on us changing the way logistics is done."
Our people's extraordinary service has helped take us so far in these first 60 years of J.B. Hunt. We can't wait to see what's in store for the next 60 years. Learn more about our 60th anniversary celebration here.