Streamline Shipping with Shipper 360 and SAP Systems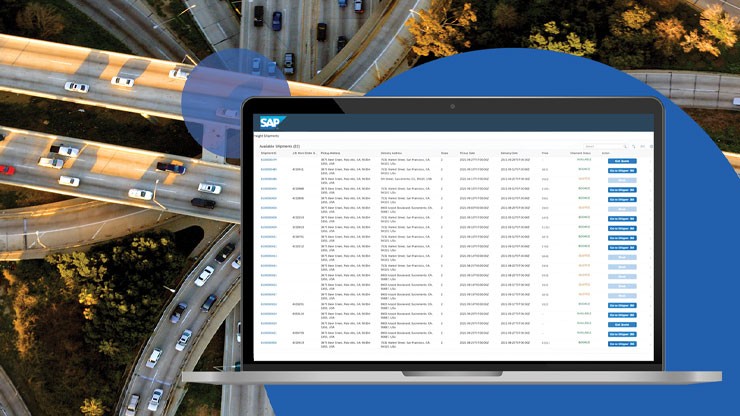 Calling and emailing brokers to get and compare freight quotes is time consuming.
But J.B. Hunt's innovative technology solution J.B. Hunt 360°® has just made shipping easier and faster by integrating with the business management platforms you already use — the SAP® ERP and SAP® TM applications. These leading solutions have come together to create a one-stop source for managing logistics needs.
Now you can access J.B. Hunt 360's freight-matching marketplace directly within SAP systems so you can start quoting and booking loads quickly. Using load information already found in SAP's enterprise resource planning and transportation management software, a spot quote is generated within ­five seconds of order entry and can be booked in just a few clicks.
Experience Value-Driven Results
Direct access to one of the industry's leading freight marketplaces combined with advanced technology improves efficiency and visibility in your supply chain and can reduce or even eliminate certain day-to-day tasks. With the integration you can:
Book a shipment in six seconds
Expand access to capacity
Eliminate phone calls and emails during the quoting and booking process
See true market pricing based on real-time capacity and demand
Enhance customer service with 24/7 track and trace visibility
How to book loads in J.B. Hunt 360 through SAP
Booking loads through the J.B. Hunt and SAP integration is simple:
Click on the J.B. Hunt tile on the SAP landing page to view all your available shipments
Next, click "Get Quote" to the right of the shipment you want a quote for
Select your pickup date and hit "Get Quote"
A new quote will be generated within seconds and when you're ready, select "Book," confirm the shipping information and your shipment is on its way
To get started, visit the SAP app store and click "Get it Now." A J.B. Hunt representative will contact you to download the J.B. Hunt Shipper 360 plug-in.
Discover how this integration with SAP systems can streamline your shipping needs, no matter if you're a small business or a big business. Visit the SAP app store today!