How to Book Less-than-Truckload in Shipper 360 | J.B. Hunt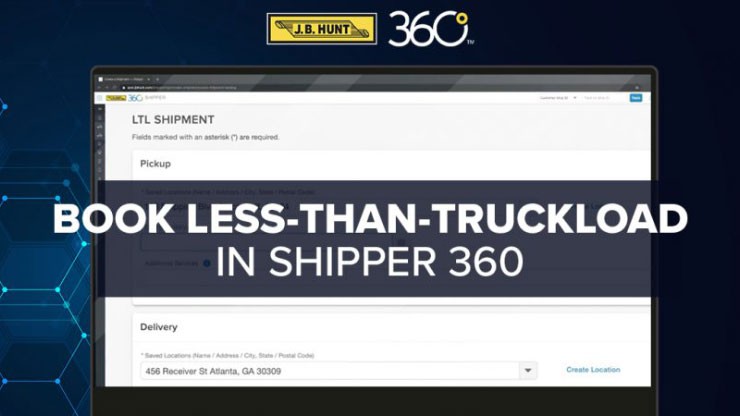 Need to get a less-than-truckload (LTL) shipment moving? With Shipper 360 it's easy to view rates, book freight and get back to your day – no expertise required. Watch the video or read the steps below to see how it works:
How to book LTL in Shipper 360:
Step 1: Log in to Shipper 360 
and click "Create" under LTL
Step 2: Enter addresses for pickup and delivery or choose a saved location
Step 3: Select your pickup date – same-day pickups must be booked by 2 p.m. in the pickup time zone
Step 4: Add additional services for pickup and delivery, including liftgate, residential delivery, secure locations, and more
Step 5: Enter the items you're shipping with as many details as possible or choose from your saved items – you'll be able to save new items on the next screen
Step 6: Click "Get Rates" – you can sort by lowest rate or shortest transit to choose your LTL carrier
Step 7: Enter pickup and delivery details as needed to relay important information to the carrier
Step 8: Add item descriptions and save new items to book faster next time
Step 9: Enter additional information for the driver and provide reference numbers
Step 10: Accept the terms of service
Step 11: Click "Book Shipment"
Step 12: Complete payment information via credit card or credit line
Once payment is complete, your shipment is booked! From the confirmation screen you can set up tracking alerts, print and send documents, book a new shipment, or duplicate the one you just booked.
Want to learn more about Shipper 360 or LTL shipping? Email us or call 1-877-256-2882.