Celebrating Five Years of J.B. Hunt 360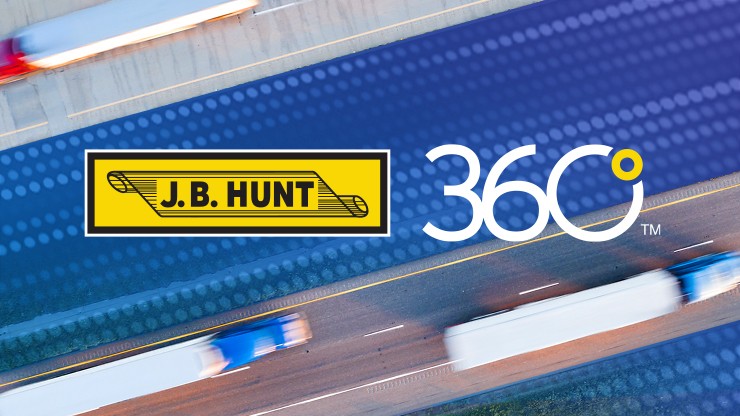 Five years ago, J.B. Hunt disrupted the transportation marketplace when we launched the J.B. Hunt 360°® platform.
J.B. Hunt 360 changed the way freight met capacity by moving the marketplace online, directly connecting shippers with carriers. It provided unprecedented access and transparency into the freight quoting and booking process. Shippers could log on, enter their load details and get a list of quotes in seconds. Carriers could log on and search for the type of loads they prefer and place bids on loads that met their needs.
Over the past five years, we have invested $500 million into making our technology even better. We've enhanced our operating systems, developed better cloud infrastructure, integrated with other systems and branched out to offer more services to our customers. With our new, innovative technologies and services, J.B. Hunt 360 has grown into more than an online marketplace. Now, J.B. Hunt 360 is a tool that makes doing business easier for everyone – through every step of the transportation process.
Take a look below at how the power of the J.B. Hunt 360 platform has grown and where it's going next.
Carrier 360™
We're a company founded by a driver for drivers. We made Carrier 360 with drivers in mind. We gave carriers direct access to the marketplace so they could find and book loads that fit their needs. Then we listened. Carriers told us what they liked about the platform and what features would help. And we went to work.
Now, Carrier 360 makes day-to-day business operations easier by providing support and services every step of the way – from finding the loads carriers want to getting them paid fast.
Carrier 360 helps carriers find the freight they need to keep their trucks moving. We made customizable search filters to make finding loads and reloads simple, and this helps minimize empty miles and improve efficiency. We've added a feature that lets carriers post their capacity so we can send them notifications when loads that match their criteria become available. Along the way, we've increased our visibility into shipping locations, allowing carriers to check out reviews. Carrier 360 also helps cut down on driver wait times.
We asked carriers what perks mattered most to them and revamped our Perks program. Carriers can get fuel discounts at Pilot Flying J, Sirius XM discounts and more. Also, carriers can use our in-app integrations with project44 and Motive to help with tracking and safety while on the road.
Shipper 360™
Shipper 360 gave shippers nationwide direct access to the marketplace five years ago, and now, it can help them maximize efficiency and grow their businesses.
With Shipper 360, our customers can quote and book shipments in three minutes or less. Now equipped with automation capabilities, Shipper 360 saves shippers time by giving them the option to save frequently used addresses and payment methods. Shipper 360 also saves recent quotes, so shippers can quickly view previous quotes or edit them to get new rates.
Shipper 360 now also offers multimodal capacity options like less than truckload, temperature-controlled truckload and more so shippers can find the capacity they need, when they need it. Shipper 360 is one of the only freight matching platforms in the industry that offers intermodal options. We've even added a volume quoting feature to help shippers find the right capacity for those tricky loads that are bigger than a regular LTL shipment, but less than a full trailer.
After the load is booked, shippers can track their shipment 24/7 right in the Shipper 360 app.  
With our API and EDI integrations, shippers can now harness the power of Shipper 360 right from the leading business platforms they already use. 
The Future of J.B. Hunt 360
When we launched J.B. Hunt 360, we changed the way freight met capacity. We moved the marketplace online, directly connected shippers with carriers and brought transparency to the quoting and booking process.
We didn't stop there.
We continued to innovate, invested millions into our technology and listened to what our stakeholders needed. We developed new technologies, integrated with other platforms and adopted machine learning to make J.B. Hunt 360 a powerful tool that not only helps connect loads to capacity, but helps make doing business easier and more efficient.
And we're not done yet.
J.B. Hunt is still investing and finding new ways to make the J.B. Hunt 360 platform even more powerful on our way to becoming the most efficient transportation network in North America.
Learn more about J.B. Hunt's transformative technology today!