Tracking Tips for Carriers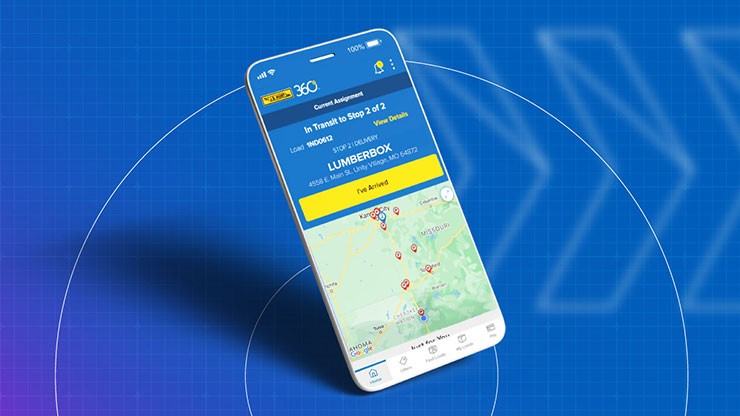 As technology evolves in every area of business and life, more information and faster communication are becoming less of a want and more of a need. For carriers, that evolution means visibility is now a standard practice when it comes to moving freight.
With Carrier 360, location updates are simple and streamlined – all you have to do is use the mobile app. By automating location updates, carriers have the opportunity to book loads that require tracking compliance – all at no extra cost. It also lightens the workload for dispatchers and gives facilities more insight into upcoming arrivals. From pickup to delivery, more information means a better experience for everyone.
Tracking with the Carrier 360 mobile app
The easiest and fastest way to track a load is with the Carrier 360 mobile app. Have drivers download the app from the App Store or Google Play – no extra equipment or technology needed. 
To track with the Carrier 360 mobile app:
After booking a load, assign it to a driver
Select "Carrier 360 by J.B. Hunt" in the tracking method pop-up
Ensure the driver has the Carrier 360 app open or running in the background from pickup to delivery*
When arriving and departing a facility, a notification will prompt a driver to perform a check call. Check calls are not automated when tracking with the Carrier 360 mobile app.
Tracking Tips
Loads will not show as "in transit" until a driver has been assigned and tracking is enabled.
Owner/operators must assign themselves as a driver to a load to initiate tracking.
Check the tracking status of all current loads by clicking "My Loads" and navigating to the In Transit tab.
Tracking is one of several metrics measured in My Performance in Carrier 360. Find your tracking stats under "Tracking" in the My Performance tab.
As shippers move towards increased visibility, Carrier 360 provides the tools needed to help drivers and carrier companies succeed.
Make sure you and your drivers download the Carrier 360 mobile app from the App Store or Google Play.

For assistance on setting up tracking or additional questions, email the Strategic Carrier Services team or call 833-211-4392, ext. 12281.
*Drivers should not interact with the app while operating a vehicle.