Utilizing Best Practices for Faster Load Payment Processing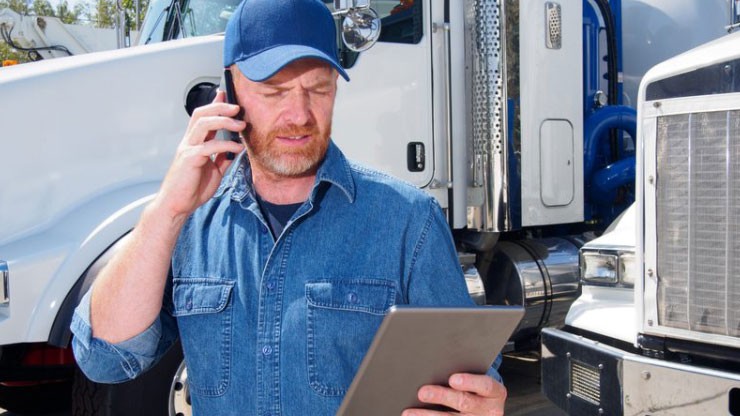 Whether your fleet is large or small, technology and processes that create efficiency can help grow your business and maximize earnings. Read more below about our recommended best practices for payment processing to keep your drivers and trucks moving.
Choosing Payment Options and Terms
One of the most important decisions you will make for your company's profitability is choosing your initial payment options and terms. The options and terms you choose should reflect the needs and priorities of your business. Your choices for payments for J.B. Hunt loads include:
Standard Pay - With J.B. Hunt's Standard Pay terms, load payments are made within 21 business days of receiving all completed load documents. Standard Pay carriers can choose to receive payment by check or Direct Deposit at no additional charge. Standard Pay carriers are eligible for cash advances. There is a $10.00 fee for each cash advance.
Quick Pay - With Quick Pay terms, payments release within 2-3 business days of submission of all required load documents. Each Quick Pay load invoice is subject to a 1.5% processing fee. Quick Pay customers can request cash advances for a $10.00 fee per advance.
Load Factoring - Carriers choosing load factoring for payment are paid based on terms agreed upon with the third-party factoring agent. For more information on load factoring, read our blog post, Quick Pay vs. Load Factoring. The factoring agent provides partial payment to the carrier immediately upon load delivery confirmation. The balance is paid to the carrier upon payment of the final invoice. The factoring agent charges a percentage of the negotiated load rate. Factored loads are not available for Quick Pay or cash advances. Factoring agents may charge additional fees for Direct Deposit or wire transfer payments.
Submitting Load Payment Documents
After delivering the load, submit the following documents with the J.B. Hunt load number to begin processing payment:
Carrier company invoice
Bill of Lading (BoL) signed by the customer
Lumper receipts (if applicable)
All other load-specific documents
J.B. Hunt recommends submitting load documents electronically in order to effectively track your documentation through the payment process. The Transflo product suite is geared specifically to the commercial trucking industry and offers several tools for electronic submission of load documents:
Transflo Velocity  - This cloud-based software can be used on any desktop computer or laptop with an internet connection and a document scanner. To use this method for J.B. Hunt document submittals, download the free software. Standard pay carriers, use recipient ID JBHD. Quick Pay carriers, use recipient ID JBHA
Transflo Mobile - Developed specifically for commercial truck drivers, the Transflo Mobile app allows scanning of load documents directly from a smartphone. The app is available as a free download for Android and Apple devices. Standard pay carriers, use recipient ID JBHD. Quick Pay carriers, use recipient ID JBHA.
Transflo Express - This method uses the same software system as Transflo Velocity, and is available through scanning stations at kiosks or fuel desks at most major truck stops. Participating truck stop chains include Flying J, Loves, Petro, Pilot, and TA. Simply give your load documents to the fuel desk cashier or use the self-service kiosk. Standard pay carriers, use recipient ID JBHD. Quick Pay carriers, use recipient ID JBHA. Once documents are scanned, the fuel desk cashier will return originals to the driver, along with a confirmation receipt time-stamped with the transmission date and time. Keep your original documents and confirmation receipt for at least 30 days.
You may also email load documents in PDF format directly to J.B. Hunt. Standard pay carriers can email documents to ics_scan@jbhunt.com. Quick pay carriers should send load documents to qpdocs@jbhunt.com.
Tracking Invoices and Payments
Once your load documents have been submitted, you can track the progress of your payments a couple of ways. First, if you are a J.B. Hunt carrier and have created your J.B. Hunt 360 Carrier account, login with your user name and password and select "Payments" from the left-hand menu. On the Payments screen, you will see four tabs:
Waiting on Me - These are loads waiting on additional documentation from the carrier prior to payment processing. It may take up to 24 hours for documents uploaded through J.B. Hunt 360 to update to "Waiting on J.B. Hunt."
Waiting on J.B. Hunt - These load are being processed for payment by J.B. Hunt. A green check mark indicates a load payment is scheduled. A red exclamation mark indicates a load payment is still being processed.
Paid by Settlement - Shows the payment history by settlement. There may be multiple load payments in one settlement. To view specifics on each settlement, click the Details button to see the itemization by load.
Paid by Load - Shows the payment history with line item details for individual loads.
Payment status can also be checked by calling the Automated Invoice Inquiry line at 1-877-977-7427, option 3.  You will need your MC number and J.B. Hunt load number to get payment status details. Contact J.B. Hunt Carrier Support at 1-877-977-7427 or email carrier.support@jbhunt.com for specific payment-related questions. Bookkeeping and managing payments for your business can be a huge drain on your productivity. Use these recommended procedures and technologies to streamline the process and find the best payment terms for your company.
This content is intended for informational purposes only and does not constitute legal or business advice.  The content of this page does not reflect the policies of J.B. Hunt Transport, Inc. If you have questions about J.B. Hunt Transport, Inc.'s policies, please contact solutions@jbhunt.com.