100,000+ Intermodal Answers to the Capacity Crunch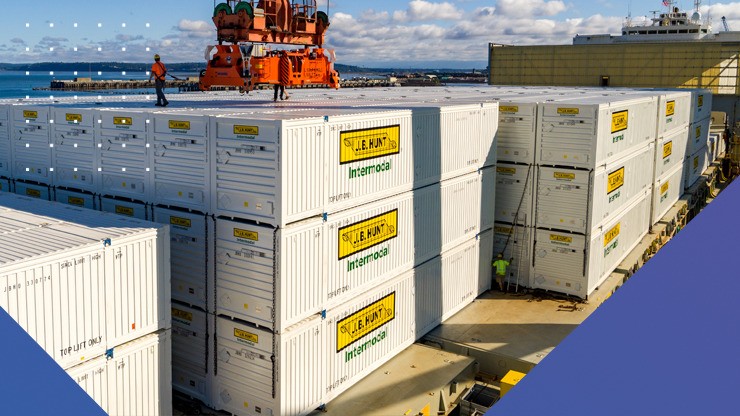 There's no getting around it: When it comes to finding the capacity, 2021 has been one of the tightest years in memory.
Labor shortages and increased consumer demand are key factors behind the disruption of so many parts of the transportation sector.
One such area is the biggest port on the West Coast.
In August, the executive director of the Port of Los Angeles said congestion in Southern California would get worse in the following three months when import volumes are likely to set new records.
Gene Seroka added "more vessels are going straight to the 'parking lot' at anchorage as they wait for berthing space to open, and they are spending more days at anchor while terminals are working near-record numbers of ships," according to the Journal of Commerce.
No matter the factors and reasons at play, the capacity crunch doesn't appear to be going anywhere soon.
But there's also reason for hope.
Good News in Intermodal Transportation
To help customers in this climate of decreased velocity and elevated demand, J.B. Hunt is adding 12,000 new intermodal containers and 3,000 new J.B. Hunt 360box® trailers in our effort to be the most efficient transportation network in North America. We have surpassed 100,000 intermodal containers overall, and the tally just keeps growing.
It's all part of a $1.25 billion capital investment plan that is increasing J.B. Hunt's total container and trailer capacity by 12%. It also gives shippers more options on the way to lower costs and more efficient transportation overall. They benefit whether converting some over-the-road loads to rail, a process that avoided an estimated 3.5 million metric tons of carbon dioxide emissions in 2020,  or using the expanded capacity of 360box — J.B. Hunt's drop trailer program.
Now is the time to plan ahead on how to leverage these extra containers to better serve your customers in 2022.
As North America's largest intermodal provider, we harness decades of expertise and award-winning technology to serve our customers via highway and intermodal. Contact us today and learn more about our industry-leading intermodal and 360box services.