Why It Matters Who Delivers to Your Customers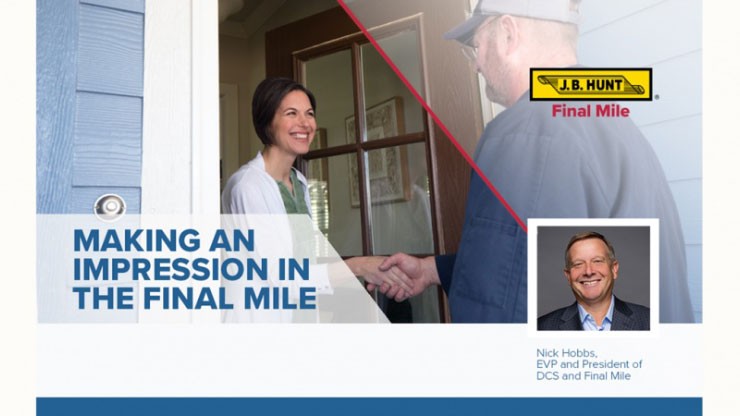 Authored by Nick Hobbs, EVP and President of DCS and Final Mile
The last experience with a brand often defines the whole experience for consumers. This is especially true for last mile deliveries, which can involve assembly and installation. As a last mile service provider, we know this represents a meaningful instance when a client's brand is in our hands, and that this shared responsibility begins long before an item is loaded onto a truck. Consumers expect the right balance of service, speed, and price. So, it's important that their expectations are set properly and early in the last mile process. It starts with setting the delivery date and sticking to it. Before a delivery date is proposed, consider all the factors that could affect delivery: the availability and location of merchandise, the consumer's schedule, routing options, and driver availability. Otherwise, you can risk jeopardizing the experience before a truck leaves the warehouse. 
Consumers don't want to feel like the process is complicated or that they're in the dark on their delivery. Most of us have grown used to our smart phone providing updates on orders, rides, and appointments. Your customers expect the same for their shipping and delivery status. For last mile providers, this means investing in new technologies such as predictive delivery alerts, automation, and machine learning. These tools help build better delivery routes in real time, prevent avoidable delays such as construction or traffic, and keep the consumer informed if there are changes to the scheduled delivery. Ultimately, these tools help us exceed consumer expectations and better reflect our client's brand. The final delivery experience goes beyond dropping off merchandise at the curb or the door. Our delivery team is responsible for installing appliances and assembling furniture, which require specific skills and training. More importantly, the team represents both the client and delivery provider's brands. 
The way they interact with consumers and their professionalism are crucial to the overall experience. It's the simple things—being polite, friendly, and respectful—that can be the difference between a two-star and four-plus review. Last mile deliveries are the lasting impression of your consumer's experience. It pays to choose the right provider. J.B. Hunt Final Mile is committed to the brands and companies we represent. We offer tailored solutions with company drivers or contracted carriers—whether it's a dedicated or commingled program. We manage the entire delivery process, so our clients can focus on their core business. We never lose sight of the fact that our client's reputation hinges on the last mile experience we provide. For help establishing or enhancing your last mile delivery network, contact J.B. Hunt Final Mile at finalmile@jbhunt.com or 1.877.288.8341.