What We've Learned Weathering Uncertainties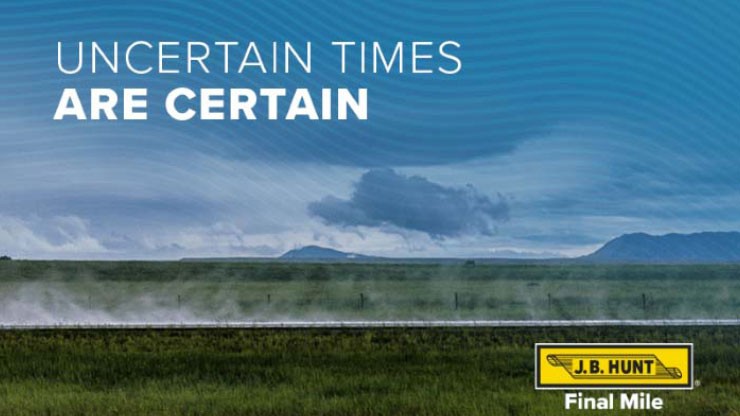 Authored by Nick Hobbs, Executive Vice President and President of DCS and Final Mile Services
Because of the role our business units play in the global economy and supply chain we have a unique opportunity to witness how crises affect a multitude of industries. J.B. Hunt also feels the effects of these events. It's important to review your business and its processes regularly, but it often takes something like a global pandemic, such as COVID-19, to slow down long enough to realize the true importance of the practice. And now is the time to make sure you're ready for the next interruption. I've been at J.B. Hunt long enough to have seen a number of economically challenging events come and go (remember Y2K? 2008?). Over more than 35 years I've noticed a number of qualities in businesses, including ours, that have made companies of all sizes successful over the long haul when it comes to navigating widespread challenges. I know that some businesses are struggling, and maybe even wondering how they will keep their doors open. My hope is that you can take something from this short list that will help your business for years to come, even through difficult times.
Be Flexible, But Don't Bend Too Far
We all like to be comfortable, but that's not always possible. Being flexible can mean a lot of different things, but it doesn't mean you have to compromise on your core values and customer service level. When the economy around us seems uncertain, we have to remain open to doing business differently. Like above, sometimes that means we change our traditional thinking about how and where work is done. In this most recent environment, we have changed the way we deliver to homes. Where in the past we have delivered into consumers' homes for our Final Mile Services, in some areas of the country we have only been able to deliver to the door or curb because of restrictions. This has been a departure from our norm, but it has gone a long way to make our own drivers and the customers we deliver to feel safe. Another way to remain flexible is being able to shift resources where your business needs it most. It might be time to cross-train some employees to be ready to respond when needed. What procedures can you identify that could change slightly to produce more comfort for those you serve?
Diversify Your Offerings
No business can be everything to everyone, but it is certainly good to have a variety of ways to serve your customers. J.B. Hunt started with only a few trucks, and over time we have evolved into a technology-based transportation company. Cross-industry diversification has served J.B. Hunt and our customers well. We've moved from a trucking-only company into the railroads, dedicated fleets, home delivery services, brokerage, and even software development for transportation management systems. Today, J.B. Hunt is able to provide our customers with a variety of options that can keep their goods moving when capacity in one area gets tight. How can your business change its offerings to stay relevant in any economic environment?
Be Human. Your Customers Are.
Empathy is easy to lose in an economy where making a profit is such an important thing. However, we cannot ever lose sight of the fact that we lead businesses that are run by people to serve other people. One of the best ways to remain empathetic is to communicate with customers and really listen to their feedback. Consumers want to know that you care and that you will take care of them. Consumer expectations of safety and security are at an all-time high, and those expectations will remain high for a long time. Make sure you're taking the proper steps to meet those expectations and provide your customers the experience they deserve. This is important any time, but especially when there is a general aversion to direct human interaction. When was the last time you asked your customers what they wanted from you? Now may be the best time to find customers who are willing to speak up.
Take Care of Those Who Take Care Of You
Our first responsibility as business leaders is to take care of our people. While we are certainly responsible for growing the business, we must balance that with care in difficult times. At J.B. Hunt, we made it a priority to retain employees. For us that meant shifting employees around some to fill needed roles for daily operations. We provided bonuses for our drivers and employees who weren't able to work remotely and whose jobs required public interaction to keep our nation's economy moving. We've provided extra paid time off specifically for those who can't work due to COVID-19 infection or quarantine. This not only provides a safer environment for everyone, but also helps our employees not worry that they're going to miss out on pay if they become ill and can't work. We are also following proper protocols in our offices, such as keep social distance and providing extra cleaning. Above all, we are communicating these things to our employees and customers. They need to know that we both hear them and care about them. These steps and others not only contribute to the physical health but also the emotional health of our employees, contractors, and customers alike. What are ways that you can make your employees and customers feel safer? What ways can you show them you value them during difficult times for everyone?
Choose the Right Providers
If there's one more important thing I've learned through the years it is to make sure you're aligned with other businesses that will help yours through difficult times. That means the people you do business with should be stable enough to be there during and after those times pass. They need to value you as a customer as much as you value your own customers—especially when it comes to home deliveries. Home delivery providers are the last, and in a world of e-commerce, sometimes the only face your customers will see of your brand. Are those businesses who are helping you a good reflection and representation of you and your brand? Are they available and flexible now to serve you? 
These are just a few of the ways we have weathered uncertain times at J.B. Hunt. I know we can't suggest you be human without sharing some of our own learnings at the same time. If this current environment has taught us anything, it's that we have to be more collaborative. We are people in the business of delivering goods to people, and we want to help you in any way we can. We strive to be the type of company that our customers can grow and share ideas with. Let us know how we can help you. Learn more about what our Final Mile Services can offer your company.