Support for Your First, Middle and Last-Miles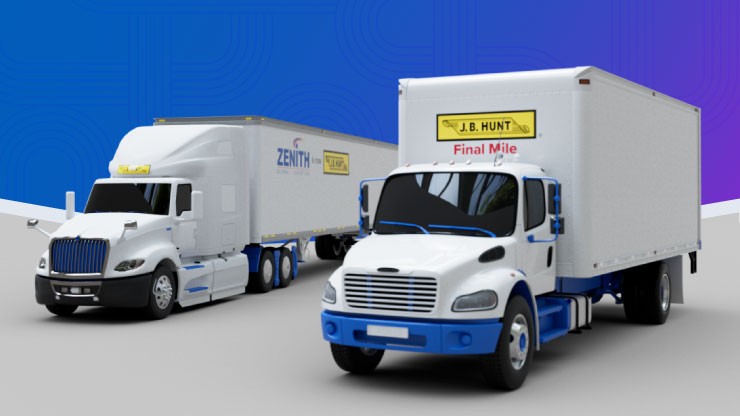 Shipping costs can be expensive – especially if you're having to piece together the logistics support you need for each leg of the journey along the way. When trying to decide who to trust with your business' transportation program, why not choose a carrier or third-party logistics (3PL) provider that has capabilities in the first, middle and last miles?
The Final Mile Services® solutions we offer at J.B. Hunt are much more than what the name may suggest. We are confident in our ability to create value for customers at every mile, especially with our acquisition of the Zenith Global Logistics® company, which extended our middle-mile capabilities.
First-Mile Capabilities
If you need to get shipments from one dock to another or from a manufacturer to a warehouse location, we can provide first-mile support in the form of big and bulky or specialized furniture less-than-truckload (LTL) services utilizing 53' trailers. Our capabilities in first-mile transport include:
14 LTL freight-hub facilities strategically placed across the United States.
LTL freight track-and-trace abilities for more visibility into shipments on the move.
Electronic logs kept during transport for quality control.
Email alerts and notifications keep you informed from the first mile forward.
Intermodal and highway services can assist in managing freight volume and consolidation.
Middle-Mile Capabilities
When goods need to get to a distribution center or showroom floor our middle-mile delivery services can again utilize our 53' trailers to roll shipments out to their next destination. Here's what sets our middle-mile logistics services apart:
Warehouses located near key markets for product accessibility.
Warehousing inventory management systems aid in scalability based on customer needs.
Top-notch material handling and processing practices in each warehouse help keep damage rates low.
Last-Mile Capabilities
Once it's time to transport products to the end consumers' home, our Final Mile Services delivery teams can get goods there utilizing our box trucks, ramps and liftgates along with any specialized equipment that may be required. With our last-mile services, we provide:
Optimized route planning for efficient delivery.
Specialized safety and security training for company delivery teams.
Options for white glove assembly and installation services.
Service agents who stay in contact with consumers for delivery day details.
First to Last Mile Solutions Are Waiting
Are you ready to simplify your supply chain management? By working with the professionals at J.B. Hunt, you gain access to all the world-class capabilities that can cover your transportation needs from beginning to end, all with one point of contact. Our devotion to Customer Value Delivery® and ability to provide stable solutions means we're trusted with over six-million deliveries each year.
Our Final Mile Services® teams are ready to deliver for you – connect with us today to start building a customized logistics program that fits your unique needs!
finalmile@jbhunt.com | (877) 288-8341