Streamline Your Supply Chain with an End-to-End Solution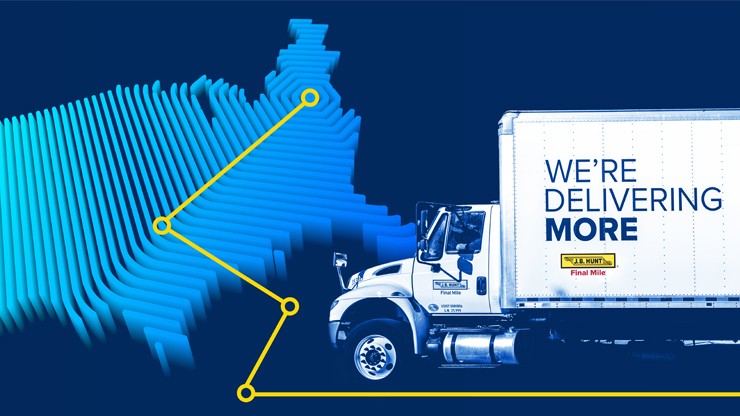 For many furniture retailers, managing supply chains in the age of e-commerce has become complicated, at best. The pandemic further accelerated online buying trends, straining the supply chains of existing e-retailers and pushing some brick-and-mortar stores to expand their delivery services beyond in-store inventory. Many companies are now maneuvering a massive, intertangled web of carriers across the first, middle and final mile. Since furniture shipments aren't palletized, it adds yet another layer of complexity to transportation.
Solving these logistical challenges can significantly impact a company's efficiency, customer experience and bottom line. However, these same challenges present an opportunity for companies to explore new supply chain solutions that will set them apart. Transitioning to an end-to-end provider can streamline your operations, while offering more visibility and transparency into your supply chain.
Get one point of contact for your entire supply chain
Using multiple service providers can result in numerous contacts throughout the transportation process, especially for furniture retailers. This could include carriers, customer service teams and tracking applications. A setup like this can compromise visibility and efficiency, ultimately affecting how customers experience your brand. 
Final Mile Complete™ simplifies your supply chain by offering an end-to-end transportation solution and reducing all your points of contact down to just one. From the moment that furniture piece comes off the factory line or arrives at port, to the moment it arrives in your customer's living room, all your communication goes through us. Our Shipper Experience Team acts as your single point of contact throughout the entire journey. They proactively monitor and manage your shipments to address potential delays or other issues. You can also gain visibility into your supply chain by logging into our Shipper 360™ app where you can view the status of all your shipments from one platform.
Work with proven, vetted furniture carriers
We look at each of our customers individually and work together to create a logistical plan that is customized to their specific needs. Usually this means leveraging the expertise of furniture carriers, since transporting big and bulky items such as furniture requires specific training that you typically won't find with standard LTL carriers. Shipments must be properly loaded and braced to minimize product damage. Furthermore, last mile delivery for these items involves much more than simply dropping off a package on the consumer's front step. Final mile carrier teams must actually enter the customer's home to complete the delivery and perform any required furniture assembly.
When Final Mile Complete manages your supply chain, you are working with experienced furniture carriers from across the country that have been carefully vetted. We have an entire procurement team dedicated to sourcing quality carriers throughout the first, middle and last mile. We're able to recruit and retain excellent carriers by making it easy for the them to work with us. Instead of requiring carriers to update or modify their technology to connect with ours, we work with the technology they already use.
Let Final Mile Complete manage your supply chain
After 60 years in the transportation industry, we have extensive experience customizing solutions to meet the specific business needs of our customers. Final Mile Complete is a comprehensive solution that solves multiple problems furniture retailers are facing. It enhances visibility by providing access to shipments through a single platform and improves efficiency by funneling all communication down to a single point of contact. Combined with a solid base of excellent furniture carriers, this has a positive impact on your customer experience and improves service levels overall.
However complex your supply chain may be, it can be simplified and streamlined by implementing a complete end-to-end solution. We work with customers of all sizes and have the right people in place across the country to properly and efficiently manage your supply chain. Contact us to get your consultation started.