How to Deliver the Experience Your Customers Expect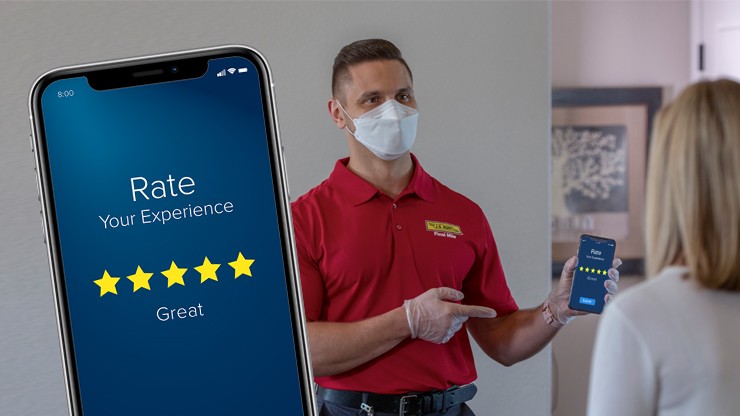 Consumer habits and expectations are influencing the supply chain from the first to the last mile. E-commerce has been an increasing trend for the past decade, as more and more consumers shifted to buying online. As the e-commerce industry has evolved, so have consumer expectations around delivery. More consumers are now purchasing big and bulky items like furniture and appliances online, and many of them want the same prompt, convenient, and safe delivery they've come to expect from standard parcel carriers.
This poses a unique challenge for supply chains of large manufactured goods and is prompting many companies to get serious about evaluating their last mile strategy. Brian Webb, executive vice president of J.B. Hunt Final Mile Services®, shares his perspective on the value a last mile provider can add to your company.

How do sellers or manufacturers of big and bulky items stay relevant and compete when quick, easy, and traceable deliveries are the norm?

Consumers today have been conditioned by many online retailers to expect quick and easy deliveries. Most consumers don't expect ordering a new refrigerator or family sofa online to be a lot different than ordering something small enough to go through a parcel carrier. They just want to know if their new sofa will be in their living room by the weekend. 
However, big and bulky items are much more complicated to ship and deliver than small parcels, and often there is no infrastructure in place that allows consumers to track the progress of their shipment. In these cases, big and bulky deliveries leave the warehouse and essentially enter a "black hole," meaning your end-consumers have no visibility into where their product is, or when they can expect it to arrive.
That's a problem for shippers and consumers alike, considering the consumer needs to be at home to receive the delivery. Choosing a provider that can provide visibility into the shipping process is an easy way for a company to set itself apart in this space. 
There are a lot of moving pieces in the last mile. What kind of customer service should companies look for as they evaluate providers? 
Last mile services do not operate like traditional shippers or retailers—and many people don't anticipate how different it is than just dropping a package at the door. Providers who are new to the home delivery market may not be prepared for the level of customer support and technology required to provide the service you and your consumers expect. Companies should look for a provider who has a dedicated solution center of subject matter experts available to help customers navigate the process—from shipment and delivery to rescheduling and complaints. 
Because the last mile provider you choose will be interfacing with your customers, it's important to feel confident about the level of customer service they are delivering. The bigger your brand and customer base, the more customer support you'll need throughout the supply chain, and especially in the last mile. 
Why is it so important to choose a company that has a proven track record in last mile delivery?
Home deliveries are so much more than simply dropping off an item in a customer's home. There's a lot of work on the back end that directly impacts the customer experience. For example, consumers have grown accustomed to knowing when their delivery is arriving. Do you have a way to communicate consistently with them? The routes you choose can have an effect on both your bottom line and the quality of the consumer experience. Do you have a way to manage the logistics of daily deliveries? You could produce excellent, quality products, but if your customers are left with a bad delivery experience, are they really going to be satisfied?  
Last mile providers act as your brand ambassador in the most intimate environment for your customers—their home. These drivers are the face of your brand, and possibly the only human, face-to-face contact customers will have with you. This makes the last mile an exceptional opportunity to make your brand shine and leave your customers feeling good. To do this, you need delivery teams with skill sets above what is needed for typical truck or LTL loads. 
Once you've chosen a provider, how do you continue to evaluate whether they are truly meeting your needs and adding value to your brand name?   
Doing a great job with one delivery is not enough. You want a last mile provider who can consistently deliver quality service over time that leaves your customers happy and satisfied. That means you're looking for a provider who has built a culture around excellent customer service, and one who also values feedback—both from you and from your customers. 
We know choosing a last mile provider to be the face of your brand to consumers is a big decision. You want someone you can trust to deliver on time, represent your company well inside your customers' homes, and provide the delivery experience your customers expect. 
With 274 locations across the contiguous United States and the largest commingled, cross-dock network in the country, J.B. Hunt Final Mile Services offers the stability and experience required to consistently execute deliveries with the experience your customers deserve. Our size gives us the ability to scale with you through growth and seasonal fluctuations. We've designed a training program for our J.B. Hunt Final Mile employee drivers and management teams around consistent and excellent customer service, and we conduct thorough customer surveys as a way to secure quality service from our contracted last mile carriers. Your brand name is on the line in the last mile, and we're prepared to be your brand ambassador inside your customers' homes.  
Contact us today to see how our Final Mile Services can boost your brand and give you peace of mind, knowing your customers are in good hands. 
finalmile@jbhunt.com | 877-288-8341 | jbhunt.com/finalmile