Hidden Costs in Home Delivery Could Drag You Down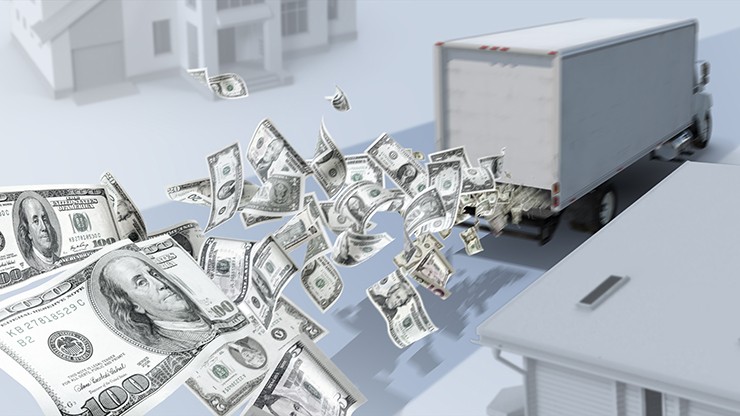 Running a successful last-mile delivery program is complex. Whether you're managing your home deliveries yourself or entrusting them to a third-party logistics (3PL) provider, you must stay prepared to combat hidden costs that could hinder your operations and lose you money. Some of the main areas where hidden costs can be lurking are:
Delivery Team Hiring and Retention
Safety and Security
Equipment and Maintenance
Could hidden costs outweigh the benefits of your current last-mile delivery program? We want to show how an experienced last-mile provider with top-notch teams, like the Final Mile Services® professionals at J.B. Hunt, can help you uncover and manage those costs while providing value for your business.
Delivery Team Hiring and Retention Costs
Locating and hiring qualified delivery drivers can be a tedious process. From the initial phone screening to the final background check to training them on your brand standards, each step in bringing on a new employee will cost you something, such as time, money or even your peace of mind. At J.B. Hunt, we have an entire recruitment team dedicated to finding professional drivers. When an employee driver is brought on, they're trained on the importance of providing a brand-conscious experience during delivery, so your brand is well represented.
Hidden costs do not just occur during onboarding. If team retention is not a focus, you can incur additional expenses in the form of employee turnovers. Truck driver and specialized delivery team turnover rates are high. To combat employee turnover in our organization, we provide our Final Mile Services® employees with fair management, stable compensation and a strong, inclusive culture. These offerings may require more up-front cost and effort to implement but are worth it if it means there is a higher likelihood of job satisfaction and team retention. In the long run, it costs less to keep qualified talent than to hire and train a replacement.
Safety and Security Costs
Thorough training for all employees on safety and security standards is necessary if you want to avoid pitfalls that can incur unnecessary costs. That is especially true for those working in home delivery, who must operate with the utmost care to help ensure products arrive at customers' homes safely and securely. And when there's a lapse in established processes or no defined processes at all, you can be left open to liability and damages.

The cost to train delivery teams on correct safety protocols will likely be less than the costs that pile up in the aftermath of an accident due to poor safety and security adherence. When accidents occur, there are many costs to consider – legal fees, damaged goods, down trucks, sidelined delivery teams and the cost of providing a poor last-mile customer experience. We keep safety at the core of our culture at J.B. Hunt, setting comprehensive safety and security protocols that delivery teams train on and refresh throughout their employment. These measures are meant to make customers feel at ease with the knowledge that the team entering their home is well trained and employs safe delivery methods.
Equipment and Maintenance Costs
It takes specialized equipment to complete deliveries, but that equipment can be a big contributor to costs for your business – and not just when it comes to replacement. There are lease fees, regular monthly expenditures and the cost of branding, along with planned and unplanned maintenance downtime. And with maintenance comes the expense of new parts, tires, oil, coolant, wiper fluid – the list could go on and on. So, you could be sinking a lot into last-mile equipment costs if you operate your own fleet.
Working with a stable last-mile delivery provider who has made investments in equipment and has the experience to plan for the unexpected helps insulate you from the sunk costs that come with equipment ownership and upkeep. We have access to an array of equipment that we utilize for our Final Mile Services solutions – from ramps and liftgates to box trucks and dry van trailers. Whatever unique delivery needs your business has, we have the equipment to fit them.
Don't Lose Money to Hidden Costs
Those were just a few places where hidden costs could be waiting in your home delivery program. It takes vigilance and a high level of experience to keep hidden costs in check. Our Final Mile Services professionals are skilled at identifying and curbing hidden costs that can provide our customers with savings. These savings could turn your home delivery program into an asset instead of a liability.
Let's bring hidden costs to light and build a last-mile program that fits your business – contact us!
finalmile@jbhunt.com | (877) 288-8341 | jbhunt.com/finalmile