Become a Last Mile or Home Delivery Carrier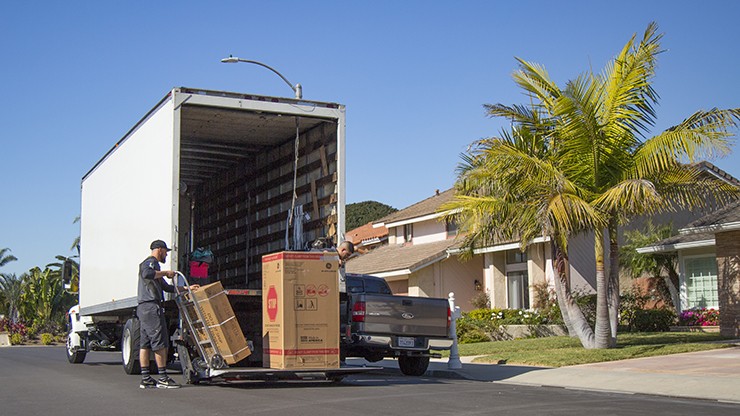 Have you ever considered becoming a home delivery or Final Mile Services® carrier for J.B. Hunt but didn't know where to start or if your business was a good fit?
J.B. Hunt is always on the search for driven, reputable last mile carriers and installers nationwide. If you are an independent contractor running your own company and want to add to your accounts, we want to work with you!
Benefits of Being a Final Mile Services Carrier
When working with our Final Mile Services teams, carriers receive the advantages and support of contracting with J.B. Hunt while maintaining operating authority – keeping you in control while giving you access to greater freight volume.
The fact that J.B. Hunt is 60 years strong signals stability for the future while also giving us a high standing in the market. We have connections to large national accounts that otherwise may not be available to smaller companies, creating further opportunities for carriers and installers nationwide. With our vast reach, J.B. Hunt-contracted carriers have options on who they deliver for and can work for businesses closer to their main base of operations. This can create more home time for drivers.
The advantages of choosing to work with J.B. Hunt as a Final Mile Services carrier don't stop there. Renting your trucks? No problem. Not only do we offer carriers discounts for truck rentals, but we also offer discounts for the fuel and tools necessary to transport and deliver a load. Plus, our seven-day payment terms are in place so that after a successful delivery you won't be left wondering when you'll receive payment.
General Carrier Requirements
Independent contractors working with J.B. Hunt are expected to meet customer standards and comply with the following:
Equipment necessary to complete home deliveries will be required (e.g., right sized truck, dollies or hand trucks, installation tools, etc.) and should be familiar to those working for the carrier. If you are providing white glove service or other premium services, equipment needs may change.
Insurance is a must for carriers, not just from a brokerage standpoint, but also from a federal one. The minimum U.S. Department of Transportation requirements must be met or exceeded, depending on the business you'll be carrying for.
Safety standards must be met and followed throughout your collaboration with J.B. Hunt – a strong focus on safety is at the base of all our operations and this standard extends to third-party carriers.
Training will be received through the business that you will be carrying or assembling for. Training requirements differ from account to account and must be completed before getting on the road.
We do everything we can to make the process of onboarding carriers and getting drivers onto the road as efficient as possible. Our best-in-class onboarding team oversees the process of bringing on new carriers and assists them to meet these requirements.
After onboarding completion, you'll work with one of our carrier communication teams, who are there to support you throughout your working relationship with J.B. Hunt. These teams working in tandem create a well-built base of communications with current and potential carriers.
Interested in Becoming a Final Mile Services Carrier?
Our nationwide footprint provides greater opportunities for loads and gives you the chance to take on accounts near your home base. At the same time, our onboarding and carrier communication teams provide a personal touch that gets you set up to deliver with success that extends into the future.
Let our reach expand yours – become a Final Mile Services carrier for J.B. Hunt!