Alternative Fuel Vehicles: Electric Truck Pilot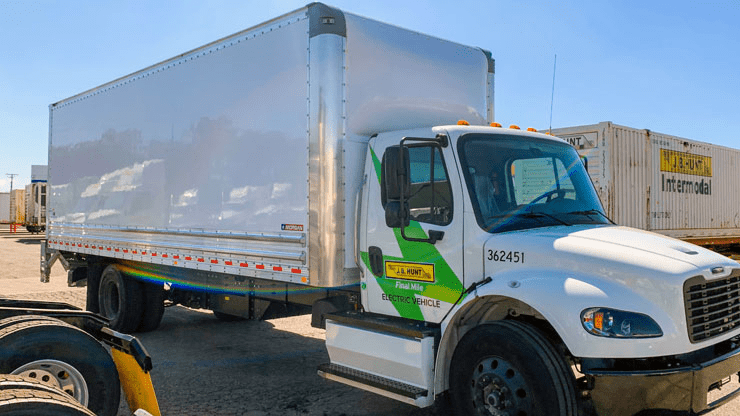 J.B. Hunt is actively searching for ways to lessen our impact on the environment, including decreasing overall carbon emissions and cutting energy consumption. One reduction initiative J.B. Hunt is exploring is new and alternative energy vehicle and fuel solutions.  
Recently, our Final Mile Services® business unit joined forces with Daimler Trucks North America (DTNA) to pilot its Freightliner eM2, an all-electric class 6/7 truck designed for regional and local distribution and last-mile logistics applications. Over the course of three months, Los Angeles-based drivers in our Final Mile business unit test drove the truck, making furniture, appliance, and fitness equipment deliveries in the greater LA area.  
According to the drivers, the electric trucks provided a smooth, quiet ride compared to diesel-fueled trucks. Although the truck took some getting used to, it responded well and was easy to maneuver and handle, the drivers said. 
"Alternative fuels are something we're passionate about exploring, said Chief Sustainability Officer Craig Harper. "It's crucial we work hand-in-hand with original equipment manufacturers, fuel suppliers, and infrastructure developers to devise solutions that will make a big enough impact to reduce carbon emissions in our company and even in the world. Piloting alternative fuel vehicles like Freightliner's eM2 is a step in the right direction." 
Learn more about the actions we're taking to reduce our carbon footprint.