End-to-End Solutions for Simplified Shipping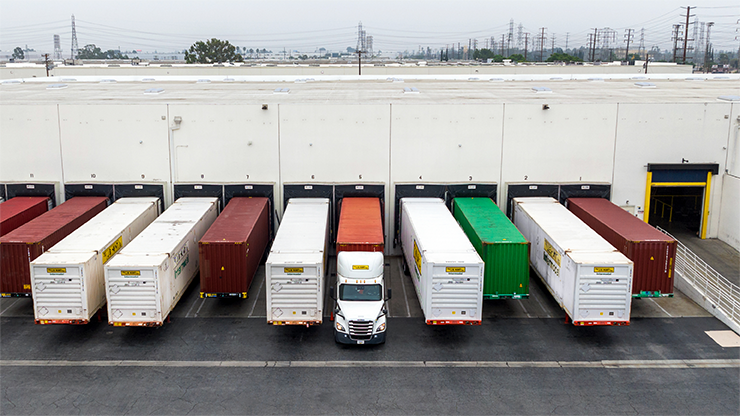 Pure Fishing® is a global provider of fishing tackle, lures, rods, reels and equipment storage – servicing all corners of the fishing marketplace with operations in 19 countries. But they were experiencing snags in their global shipping flow. Factors like accelerated inventory levels, a lack of warehousing space and labor constraints—especially at inland hub locations—made their wait for freight much longer than it should be.
Solving for Challenges

"One of the biggest challenges was that piece at the port," said Larry Gorsich, director of global transportation and trade compliance for Pure Fishing. "That process of setting the port appointment and turning around the container—that used to be a 7 to 10, to even 14-day process."
J.B. Hunt tackled the supply chain challenges Pure Fishing was experiencing head-on with a variety of end-to-end solutions ready to support their needs. The company began utilizing our transload services with facilities on the East and West coasts. "Since we implemented the transload program with J.B. Hunt, we've cut a minimum of two weeks out of our inbound supply chain," Larry said.
Solutions for the Journey
Once containers depart our transload facilities, they're transported to Pure Fishing distribution centers. But their journey with J.B. Hunt doesn't stop there. When it's time for products to get moving again, Pure Fishing knows they can utilize our over the road (OTR) highway services or outbound intermodal to roll them out to locations and into customers' hands. And the J.B. Hunt 360box® program helps keep things moving by integrating live and drop networks, allowing Pure Fishing to move goods on their schedule.
With all these moving parts, visibility is key – that's where J.B. Hunt 360°® technology comes in. Pure Fishing has gained better visibility into their less-than-truckload (LTL) and full-truckload (FTL) freight by utilizing the Shipper 360™ platform. "Technology in the global transportation space to me means real-time visibility and the 360 platform does a very nice job of providing that for me." Larry said. "You can generate custom reports very, very easily and it really has all the information you need to run day-to-day operations."
Faster Freight Can Create Savings
J.B. Hunt solutions create further value for Pure Fishing by aiding in cost management. When each portion of the product journey is managed by a single source, it can make for a much smoother transportation experience and help reduce costs. "It translates into less canceled orders from customers. It translates into happier customers," said Larry. "When we start to monetize that inventory in transit reduction number, the savings are very, very significant."
Get End-to-End Solutions
Each of the freight services we offer at J.B. Hunt come together to deliver a value you can't put a price on – peace of mind. We provide end-to-end logistics solutions for our customers, like Pure Fishing, that keep freight moving faster with insight into the process along the way.
Fill out our form to connect with us and start building customized shipping services that are ready to keep your freight moving!