Gearing Up for USMCA Changes in Automotive | J.B. Hunt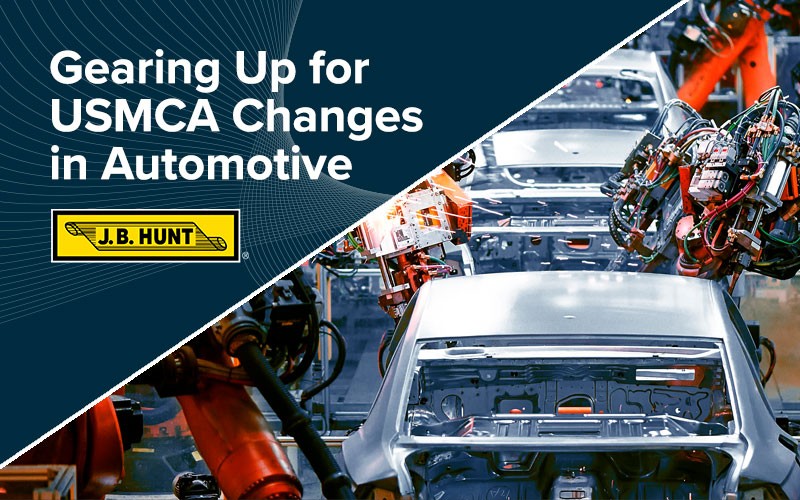 The freight transportation landscape has been rocked by COVID-19's impact on supply chains so far in 2020, and big changes aren't expected to stop soon. On July 1st, the United States-Mexico-Canada-Agreement (USMCA), or NAFTA 2.0, as it's colloquially known, went into effect between the three countries.
The new USMCA expands, updates and clarifies the North American Free Trade Agreement, which was signed into law in 1993. It focuses on categories including agriculture, digital trade, energy, environment, intellectual property, labor, non-market economies, small and medium enterprises, and textiles.
The automotive industry, however, is one where many analysts anticipate the USMCA will make its biggest splash. The USMCA will affect this category, which plays an important role in U.S.-Mexico business relations, more than many others.
Under the new treaty, at least 70 percent of a vehicle producer's steel and aluminum must originate in North America. Another provision closes loopholes that had essentially allowed product not made in North America to be labeled as "originating" there.
One major change involves NAFTA's requirement that passenger vehicles and light trucks qualify as duty free only when meeting a required value content (RVC) standard for localized content of 62.5 percent. Under USMCA, that bumps up to 75 percent.
Furthermore, under NAFTA, there were no local originating requirements when it came to "core parts" like engines, transmissions, advanced batteries and axles. Under USMCA, core parts must be originating and meet a 75 percent RVC requirement, according to the Office of the U.S. Trade Representative. Similarly high RVCs apply to principal and complementary auto parts.
The USMCA also introduces a new Labor Value Content rule, requiring between 40 percent to 45 percent of qualifying vehicles to be produced by employees earning an average of $16 per hour by 2023, according to the Office of the U.S. Trade Represenative.
Erik Neuwirth, J.B. Hunt's director of Mexico Highway Services, predicts these new regulations will lead to an increase of bonded shipments of automotive components from Canada, and especially Mexico, to foreign-trade zones in the United States. (These zones are special areas that allow companies to decrease import duties and other costs.) 
"Such shipments into FTZs will allow companies to defer paying duties on components that no longer meet the new content and/or labor value requirements for duty-free trade," Neuwirth says. "The FTZ layover essentially gives companies extra time, until multiple components can later be imported to make a finished product that meets all conditions for duty-free trade."
"For shippers using third-party logistics (3PL) providers to transport door-to-door shipments from Mexico via transload at the border, the uptick in bonded shipments will likely create capacity constraints. In the transload model, 3PLs largely use a network of US carriers representing five trucks or fewer to operate the US portion, and the majority of these smaller carriers are not bonded."
Then, of course, there's coronavirus.
Economic uncertainties resulting from the COVID-19 pandemic complicate any forecasted impacts of USMCA.  On March 30, Mexico closed all nonessential businesses to slow the virus' spread. That shutdown, which included major automakers, has led to forecasts of fewer imports for U.S. manufacturers who use Mexican-made auto parts.
When it comes to 2020 Mexican production compared to 2019, "we don't have enough information to make a concrete forecast; everything is changing, but we could see a drop in production of 28-30 percent and in exports a similar situation, with a decline from 30-33 percent," the director general of the Mexican Association of the Automotive Industry said on June 8.
How the USMCA will affect North American businesses during the COVID-19 pandemic and its aftermath will depend on multiple factors, many of which are rapidly evolving or aren't yet known. Learning the ins and outs for your specific situation, however, will help. While the above is only a summary of new USMCA standards or agreements relating to the automotive industry, see the entire document and the U.S. Customs and Border Protection's USMCA Center for more details.
For questions about cross-border transportation, consult proven providers and professionals. J.B. Hunt has an established track record in all three USMCA nations, with over 25 years of experience working in Mexico with presences in Mexico City, Guadalajara, San Luis Potosi, Monterrey and Querétaro. We specialize in custom logistics solutions, whether by truck, rail, ship or plane, that solve your most pressing needs.
For more information, contact global.solutions@jbhunt.com