Four Ways J.B. Hunt Helps You Manage Supply Chain Costs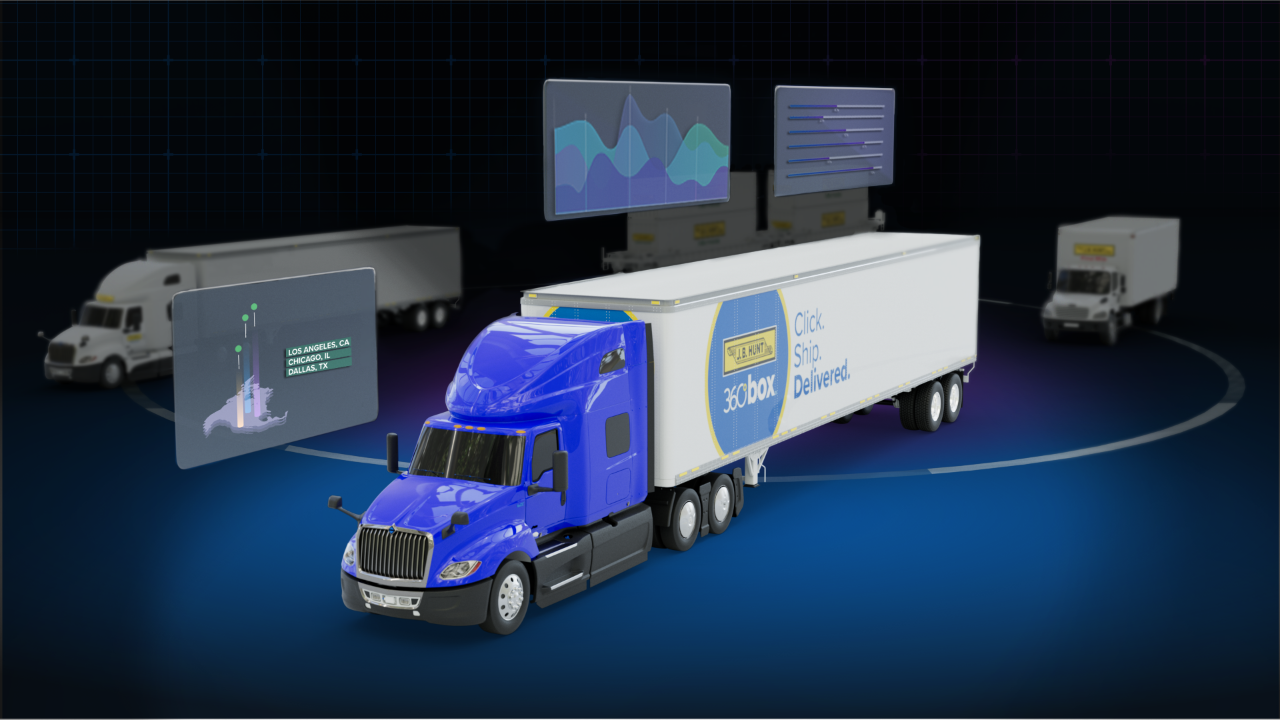 We understand the challenges our customers face balancing supply chain costs, capacity and service – especially in today's uncertain market. Navigating how to build a supply chain that works with your budget is difficult. J.B. Hunt is here to help. Between our industry-leading technology that provides insights and supply chain cost analysis, our multimodal service offerings and our over 62 years of industry expertise, J.B. Hunt can build you a custom supply chain solution that helps you meet your business goals.
Keep reading to find out some of the ways J.B. Hunt provides opportunities for cost management while creating exceptional value for our customers.
Intermodal Conversion
Did you know shipping via J.B. Hunt Intermodal has the potential to save you, on average, 15% compared to highway costs? Or did you know that intermodal shipping is 2.5 times more efficient and cuts carbon emissions by an average of 60% compared to over-the-road transport alone? Better for the environment and opportunities for cost savings – it's a win-win. With our focus on meeting your service expectations, you don't have to sacrifice speed and consistency when you choose intermodal. J.B. Hunt ranked first on the Journal of Commerce 2023 Spring Intermodal Service Scorecard for our best-in-class customer service.
Customer Value Delivery®
Through our proprietary service-focused methodology, Customer Value Delivery (CVD), we create added value for our customers by building custom supply chain solutions that meet their specific business needs. No two businesses are the same and neither are their supply chain needs. Our team gets to know the ins and outs of your business to create a supply chain solution tailored to your unique business goals. With J.B. Hunt, you can be confident that you are paying for what you need. CVD is a cyclical continuous improvement process, designed to adjust to your changing business needs. If margins or capacity needs change, we're there ready to help you make adjustments as necessary.
Supply Chain Optimization
Our mission is to create the most efficient transportation network in North America. Our constant pursuit of efficiency creates opportunities for better logistics cost management for our customers. For example, supply chain optimization can help find the right truck for the right load, reducing empty miles and wasted time. Fewer empty miles mean lower fuel costs.
Our mode-neutral transportation model drives efficiency by providing our customers access to any type of capacity on demand and at scale. Today, you need 10 shipments and tomorrow you need 10,000 shipments? We have a solution that works for you in either scenario. At J.B. Hunt, we have the infrastructure and access to capacity to meet your business where it is today and work with you to build a supply chain that helps your business grow in the future.
The J.B. Hunt 360°® Platform
The J.B. Hunt 360 platform brings transparency to the quoting process by showing you the true cost of business up front, disrupting decades-old pricing structures. Log in, enter your shipment details and get market-relevant quotes in seconds. Then, choose the quote that works with your budget. And with nearly one million company-owned and third-party trucks available in the platform, you are sure to find the right capacity, at the right price and at the right time.
The J.B. Hunt 360 platform also gives you access to our J.B. Hunt 360box® program, a drop-and-hook solution that can help you save on staffing costs. With 360box, you no longer have to schedule shifts around a set appointment time with a live load carrier. 360box creates flexibility for you to load and unload drop trailers when it makes sense for your business.
Creating Value
Keeping your supply chain budget in check will always be a challenge, but at J.B. Hunt we want to make it easier. With our multimodal shipping options, technology, industry experience and CVD methodology, J.B. Hunt can create a custom supply chain solution that meets your specific needs.
Ready to get started? Contact your J.B. Hunt representative or fill out our form!