7 Steps to Improving Shipping and Receiving Locations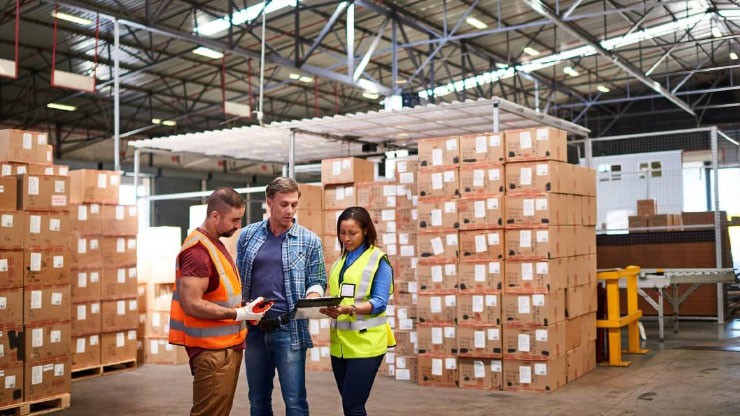 HOS (hours of service) regulations limit drivers to 14 hours of on-duty time each day. Most drivers try to spend as much of that time as possible on the road with a loaded trailer. However, a driver's service hours are included in time spent at a shipper's or receiver's facility processing paperwork or waiting to be loaded or unloaded. Especially in light of tight capacity and electronic logging device (ELD) regulations, shippers and receivers should work to ensure each facility remains accountable to minimize delays and help keep freight moving. Doing so not only benefits drivers, but also increases capacity and efficiency. Statistical evidence shows reducing a driver's time at each shipping and receiving location by just 30 minutes can result in a driver gaining back up to 12,500 miles per year (assuming 250 driving days per year). For drivers, every minute they are not moving means a missed opportunity to make wages. For shippers, it means less capacity and could lead to declined on-time delivery and customer satisfaction. Businesses can do their part to alleviate delays and provide amenities for drivers. The following practices for shipping and receiving locations includes strategies aimed at boosting the driver experience and reducing how drivers spend their valuable hours of service each day.
How to create a driver friendly location:
Step 1: Minimize wait time for drivers to a one-hour max
Drivers often spend multiple hours waiting to load or unload. For shippers, this means paying detention fees. For drivers, long wait times contribute to delayed deliveries and reduced earning potential for both the driver and the fleet.
Step 2: Provide resources for drivers, including:
Free Wi-Fi
Restrooms
Driver break room
Area information (such as safe parking locations and truck-friendly restaurants)
Step 3: Allow drivers to take breaks on-site
Truck drivers are not allowed to simply pull over and take a break on the road. Drivers often waste time at the end of their HOS looking for a safe, legal place to stop.
Step 4: Consider wider operating access for drivers
Statistics show trucking companies have the most availability on nights and weekends. In addition, night and weekend deliveries often experience fewer traffic-related delays and could be beneficial to on-time delivery.
Allow drivers 24/7 access to loaded trailers
Provide at least one weekend day during which drivers can access your facility
Step 5: Optimize processes to avoid time-consuming delays and tasks, including:
Inflexible appointment windows
Last-minute cancellations
Multi-stop loads
Inconsistent communication
Frequent live unloads
Step 6: Utilize technology
Utilizing a technology that helps shippers and receivers prepare for the arrival of a driver are becoming ubiquitous. With access to instant load tracking, smart routing, and predictive delivery, businesses are able to streamline processes in real time. In addition, data can provide valuable insights into how facilities can optimize their practices, helping to lessen disorganization. Shipper 360 by J.B. Hunt provides such features.
Step 7: Avoid short lead times
Planning can alleviate confusion and delays – always plan ahead to the best of your ability and take advantage of advanced technology offerings from your supply chain solutions provider
  Clear, consistent communication helps to save both time and money. Once the lines of communication are open, constructive feedback and timely communication become second nature. Working to create a facility that respects the driver's time benefits everyone. The higher the level of service and accommodation a facility provides, the more reliable the carriers can become. Working with a trusted third-party logistics (3PL) provider can help ensure your freight is brokered to dependable carriers. In an industry that fluctuates as much as transportation and logistics, business relationships can make or break a business.