21 Shipping Terms Every Business Should Know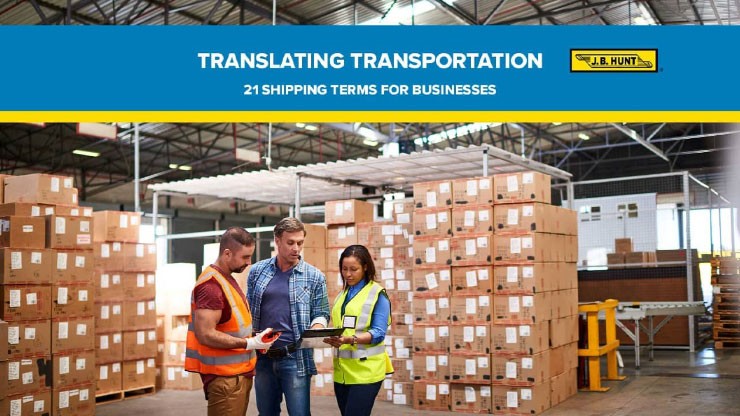 "Your reefer tender may be subject to drayage, detention and lumper fees." Say what? Ever found yourself needing a translation guide to understand the acronyms and industry jargon used in the commercial shipping industry? You are probably not alone. To cut through some of the confusion, browse the list below of common industry terms and definitions.
Accessorial Charge - Additional fee charged for a value-added service or piece of equipment needed for the successful delivery of freight.  Examples include the use of liftgates or lumper (see below) services.
Backhaul - Transporting cargo or freight during the return trip of a commercial vehicle. Transporting goods during a backhaul helps increase revenue for carriers and decrease overall costs for shippers.
Bill of Lading - A document given by a carrier listing goods being transported and the terms of transport.
Broker - A person who arranges for transportation of freight for a fee.
Carrier - A company engaged in transporting goods for commercial use.
Class code (or freight class) - Identification code of goods as classified by the National Motor Freight Traffic Association (NMFTA). For further explanation of class codes, read our blog post.
Container - Shipping box usually loaded onto a truck chassis from a rail car or ocean vessel to transport freight to its destination. Shipping containers can be 20', 40', 48' or 53'. J.B. Hunt owns the largest fleet of 53' shipping containers in North America.
Deadhead - Driving a commercial truck hauling an empty trailer or container. Eliminating deadhead miles in a commercial trucking fleet increases revenue and fuel efficiency.
Detention - Extra time after the agreed-upon allotment spent by a carrier waiting at a shipper or receiver facility for loading or unloading. These delays increase shipment times and usually incur additional fees charged by the carrier for time lost.
Dock - A platform for loading and unloading trucks or railway freight cars.
Drayage - The transport of goods over a short distance, usually as part of a longer overall move.
Hazardous Materials (Hazmat) - Any item or agent that has the potential to cause harm to humans, animals, the environment; either by itself or through interaction with other factors. Both carrier companies and their individual drivers must have endorsements to transport hazardous materials.
Intermodal - The transportation of freight in a container using multiple modes of transportation, typically including rail transport.
Lane - A regular route of transportation, usually for commercial use.
Less Than Truckload (LTL) - Transportation of freight requiring less space than a full truckload and weighing less than 20,000 pounds. Multiple shipments travel together in one trailer for efficient use of space.
Liftgate - A device carried on the back of a trailer or vehicle that assists in loading and unloading goods. These are often necessary for shipments that ship from or to a location without a dock.
Lumper - A person or company that helps load or unload freight, typically used by warehousing and distribution companies.
Reefer - A refrigerated container that keeps items in the shipment at a safe, proper temperature throughout the journey of the shipment.
Tender - A formal offer to carry freight at a fixed price.
Third-party Logistics (3PL) - Outsourcing distribution, logistics and fulfillment services to a third-party.
Transportation Management System (TMS) - A software system that analyzes and automates transportation operations and decision-making, typically for large, enterprise customers. A TMS should provide full visibility of freight, advanced routing, and reporting of key performance indicators (KPIs). The J.B. Hunt 360 platform is scalable for businesses of all sizes and includes capabilities backed by AI and machine learning.
These terms and definitions may be helpful, but if you have specific questions related to your shipments, don't hesitate to speak up. Your account representative can answer questions about industry terminology and explain how to maximize your shipping budget based on your needs. Have a shipping question or want to restrategize your supply chain? Contact a J.B. Hunt representative for answers here or by calling 1-800-4JBHUNT.