Trust comes first. Here's how to build it.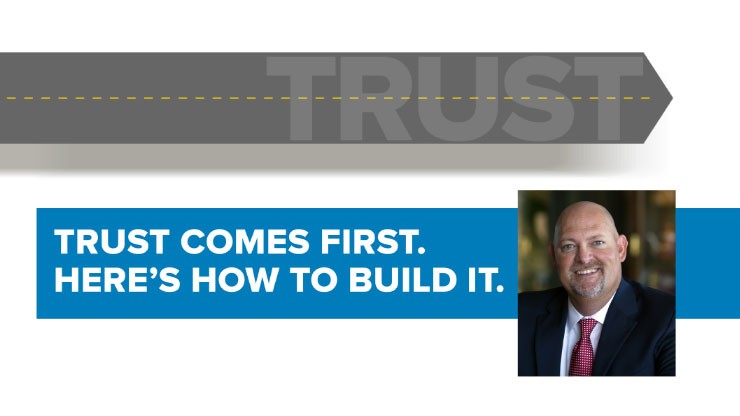 Authored by Brad Hicks, Executive Vice President of Dedicated Contract Services
Whether you're converting a private fleet or switching outsource providers, the first 90 days are a make-or-break time for a transportation provider that has just won the business of a new customer. The customer is trusting you to provide the service levels promised during the sales process. If you stumble out of the gate, you could damage the customer relationship or your reputation. Trust isn't guaranteed; it's earned. The road to trust begins with assigning accountability before the contract is signed. Sales and operations need to work together to ensure expectations are aligned. Fleet engineering and pricing must be accurate to avoid costly surprises down the road. Account for every detail, no matter how small, to ensure service levels are upheld to customers and their clients from the beginning. Another key element to building trust is clear communications. After a new agreement is announced, many customers are concerned about their drivers. It's natural for drivers to be apprehensive at first. Address that unease head-on and immediately shift conversations to "how we will help." Go above and beyond to alleviate driver concerns by conducting one-on-one meetings and bringing human resources to discuss any additional questions.
 Make the transition process as smooth as possible. Drivers are now part of your company, and you treat them like family. Communication doesn't stop there. You must be consistent to continue building trust with the customer. Following the kickoff process, customers want to be reassured that the details are being handled. After all, this is their business, and they have a great interest in the progress of drivers, operations, service, and cost. Answer their questions in a way that eases concerns and provides visibility into your performance, because they have a lot riding on the success of this relationship. Communication internally is just as important as with the customer. It's essential to constantly challenge your team to do better, "What more can you do?" Instill a core value of beliefs that focus on putting the customer first. Employees must understand that when a fleet is converted, there are several people whose livelihood depends on your service. Every customer is unique, and you have to approach them as such.
You can't fit customers into your mold; you fit into their business model and operate as an extension. With the right management and drivers, anything is possible. At the end of the day, it's about living up to your name. We are J.B. Hunt, and our dedication to your company, drivers, and operations is unmatched. At J.B. Hunt Dedicated Contract Services, operations is at the heart of what we do. Our startup process has been perfected by a team of professionals with more than 20 years of experience. We take great pride in our ability to seamlessly integrate into our customers' business from day one. As a result, we create the best solutions with the customer – not us – in mind.