Top Misconceptions about Outsourcing your Private Fleet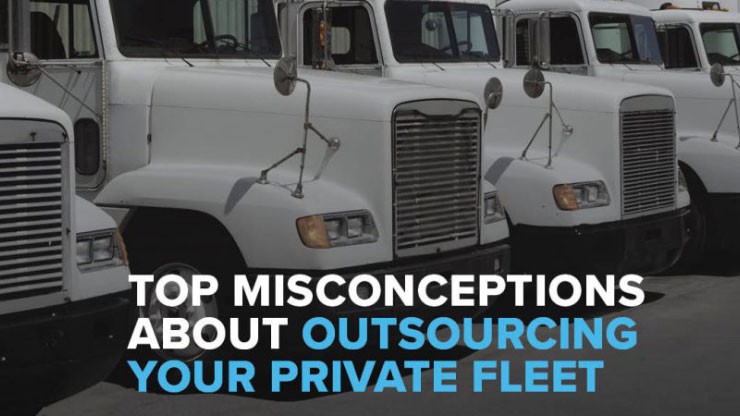 In the current environment, private fleets require more time, energy, and money to manage, causing many businesses to question their distribution strategy. Outsourcing can be perceived as a negative term; however, it could be the best decision you ever make when you choose a provider that specializes in private fleets. To set the record straight, we tackled some of the biggest private fleet outsourcing misconceptions.
My current drivers will lose their job.
Safe and reliable drivers are a huge asset. Their route expertise and customer relationship is invaluable. An outsourced provider's goal is to retain drivers, because it assumes that relationship with your customers. 
Private fleets are the best way to manage your brand and customer service. 
Outsourced fleets often hide in plain sight. The right provider will brand trucks, trailers, and uniforms with your company's logo. Your customers experience the same driver and service representing the brand they trust. 
If you want a job done right, you have to do it yourself. 
Many businesses believe their fleet is "too specialized;" however, a provider's core business is designing and executing fleet strategies for specialized companies like yours. When transportation is the only focus, it becomes second nature. Employees are experts in fleet solutions that increase efficiency and reduce costs. 
My fleet will be lost in the shuffle of a big company.
Your success is a top priority. Key Performance Indicators are created to measure your company's success. Large providers have the resources to assign management, equipment, and drivers to your fleet. Also, customers often have management on-site to oversee the day-to-day decision making. Think of what you and your employees could accomplish with these hours back in the day. 
It's too expensive to outsource my fleet.
With the significant number of risks and potential liabilities, private fleets can quickly become the more expensive option. If you were a trucking company, you wouldn't operate a fleet to profit as little as you think you're saving. One major accident could have ripple effects across your business. Companies are now re-thinking their private fleet model to avoid costly and untimely distractions.
J.B. Hunt Dedicated Contract Services (DCS) provides outsourcing solutions for companies that operate a private fleet, assuming all fleet responsibilities. DCS is in it with you for the long haul. Every fleet design is individually crafted by our logistics engineers with your company in mind. No two solutions are the same as no customers are the same. Customers that utilize DCS benefit from enhanced visibility, improved efficiency, decreased risk, and better customer service. DCS allows customers to retain all the benefits of operating a private fleet without the headache. To learn more about the benefits of outsourcing, contact us at dedicatedsales@jbhunt.com or 1-800-325-1068.