How we bring new value to our customers every day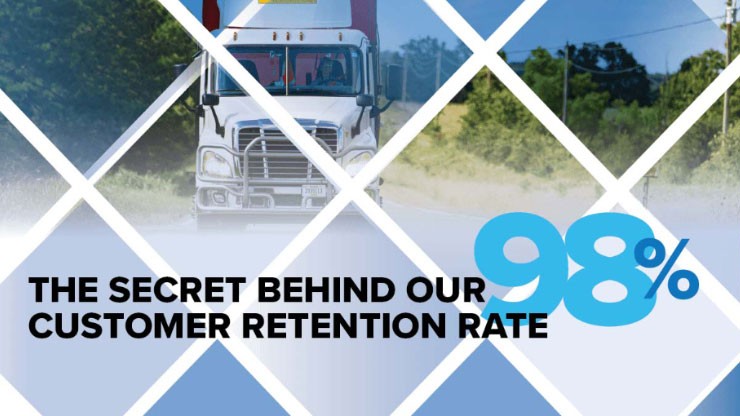 As customers, we stick with what works. When a product or service stops working for us, we move on to something that does. As a company, J.B. Hunt is committed to providing a service that doesn't just work for our customers, but one that keeps getting better. That's why 98 percent of J.B. Hunt Dedicated customers stick with us year over year. We sat down with Brad Hicks, Executive Vice President of Dedicated Operations, and he shared three main reasons our dedicated service model continues to resonate with our customers:


Our boots-on-the-ground approach means every customer has their own account manager on-site.
Our density lets us lower customer costs, putting money back in their pockets.
Our engineering team helps each customer get the solution they need by intersecting every step in the process, from sales to implementation to evaluation.
We asked him to unpack each of these reasons further and share more about the value they provide to customers.
How do customers benefit from our boots-on-the-ground approach to management?
We have an on-site manager embedded in each of our account locations with our customer. These folks are experts in transportation and logistics, but they also know their customer's industry and unique company needs backwards and forwards. The customer's priority is their priority. This model sets us apart from other providers because our account managers are involved in the day-to-day operations of the fleet. They have weekly strategy meetings with the customer to discuss KPIs, goals, upcoming challenges, or new priorities. These account managers are able to engage in strategic discussions and make decisions from a position of knowledge and experience.
What advantage do J.B. Hunt Dedicated customers gain from our density?

The size of our customer base and the density of our locations across the business allow us to pass on significant cost savings and flexibility to our customers. For instance, we might have a customer who runs a lower load volume the last week of the month, or one who struggles to keep drivers on the road on Fridays. Because of our density, we can often "loan" drivers to other accounts during slow periods. Our customer is able to reduce costs when we find other work for their drivers, but is assured they have drivers dedicated to their account when they need them. Ultimately our density gives us the flexibility to serve customers who are experiencing both lulls and surges in volume.
What value does our engineering team bring to the customer?
We involve our engineering team long before a customer contract is even signed to help us build an efficient fleet and supply chain that meets our customer's needs. After implementation, we hold regular assessments at predetermined intervals to evaluate what is working and what could be improved. This all-hands-on-deck, collaborative approach helps establish a framework for continual improvement for our customers. At each stage, from development to implementation to evaluation, our engineers and managers are proactively looking for opportunities to improve value for their customers. By taking into account customer priorities, KPIs, and industry trends, our people are able to continually improve the transportation solutions we provide our customers. Hundreds of companies choose J.B. Hunt to manage their fleet and never look back.
Learn more about our custom Dedicated solutions and why our customers stick with us. (800) 325-1068 | dedicatedsales@jbhunt.com