Get the fleet that flexes with you | J.B. Hunt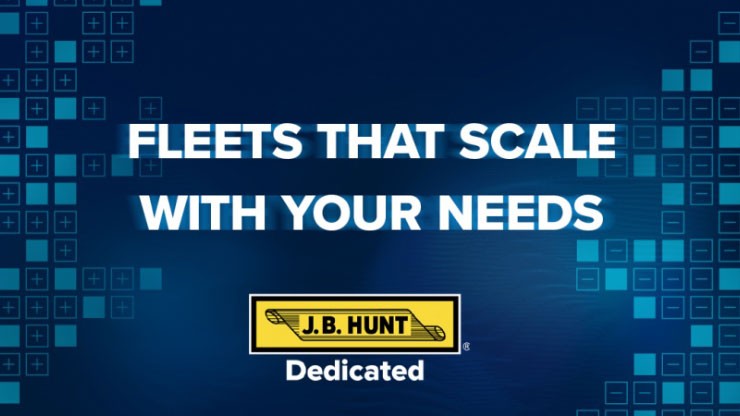 Many companies with fleets find themselves in one of two camps. For some, their fleet is too big. They carry extra trucks and drivers in case they're needed, but most of the time they sit by idly. Others consistently find their fleet too small. They have just enough drivers and trucks to operate at status quo. But the moment an emergency pops up, they are forced to turn to a third party provider to get the extra capacity. If there's one thing we can all agree on, it's that we can't always accurately predict the future, no matter how hard we try.
What do you do when the fleet you have is no longer meeting your needs? A dedicated provider can't predict the future for you, but they can help you be more prepared to weather the uncertainty it throws at you. Here's just a few of the things that could strain your fleet, and how the right dedicated provider can help.
Driver vacations and injuries lead to unplanned costs
When a driver is out of commission for whatever reason, you face a couple of choices. You can delay the loads, let your customer service take a hit, and pay for an idle truck on your lot. Or you can pay a premium to outsource the loads to a third party provider, maintain some level of customer service, and still pay for your idle truck. Some fleets keep a few extra drivers on their payroll at all times just to make up for these unexpected vacancies. Whatever solution you choose, it costs time and money to cover for driver vacancies.
The right dedicated provider is often able to offer more cost-effective solutions when one of your drivers is down. The density of J.B. Hunt's dedicated fleet operations means we have a level of built-in flexibility to offer our customers. We may be able to take drivers from nearby accounts that are running slower than normal and temporarily reassign them to companies who need them. This arrangement can help you avoid losing money with idle trucks or spending more to get service with spot market rates. It's also more likely to offer the same level of quality service your customers have come to expect.
Acts of God affect your customer service
A weather event could be a winter storm that leads to icy roads and poor visibility, slowing down trucks or grounding them altogether. Or it could be a hurricane that leaves thousands without power and disrupts normal supply routes. Either way, you often have very little time to prepare by finding alternate routes and sourcing extra trucks and drivers. If you're a provider of essential products, your customers will still be relying on you to find a way to make deliveries.
We can't control Mother Nature, but we can do our best to offer safe and efficient solutions when she isn't acting in your favor. Once again, the density of J.B. Hunt's locations and large pool of dedicated assets mean we have more resources, options, and flexibility than other fleets. In turn, this helps you offer your customers the best service possible when the weather is in no one's favor.
Current uncertainties create inefficiencies
No one's business plan was able to account for the full effects of COVID-19. The pandemic disrupted "normal" operations for every company out there. It placed heavy strain on supply chains and transportation networks amidst fluctuating demand. Furthermore, protests or curfews in some regions made it necessary to adapt routes and schedules to maintain safe and timely deliveries.
Even in the midst of unexpected challenges like COVID-19, we strive to provide service and transportation our customers can rely on. Some of our customers experienced wild surges and needed all the capacity they could find. Others found their business slowed, and they had assets that were going unused. We've been able to quickly adapt to the varying needs of our customers with minimal disruptions and offer the flexibility their fleet needs during the pandemic.
The Dedicated advantage
In the end, having a fleet that's the right size is important for your business. The problem is this: the size that is right today might not be right tomorrow. A fleet that's too big or too small can create all kinds of challenges, from inefficiencies and costly solutions to poor customer service and extra administrative work for you.
J.B. Hunt Dedicated gives you a fleet that is not just optimized for your "normal" operations, but one that can also flex with you through the uncertainties of the future. We help make sure the fleet you have is always the fleet you need. Contact us to learn more at (800) 325-1068 or dedicatedsales@jbhunt.com.