Recruiting in a Highly Competitive Market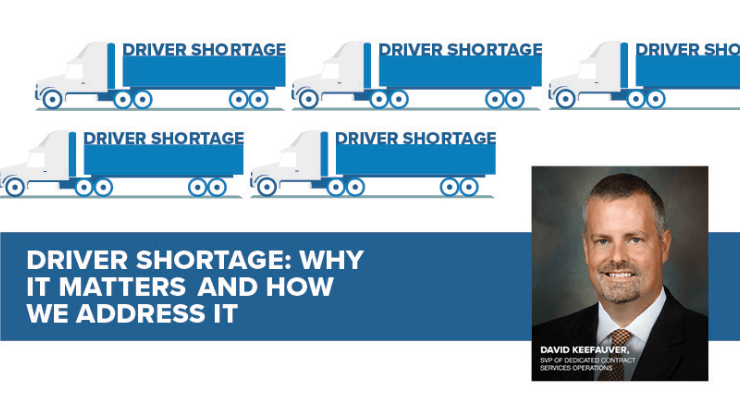 Authored by David Keefauver, SVP of Dedicated Contract Services Operations
A driver shortage has been lingering over the supply chain industry for many years. The average driver age is rising, regulations are changing, drivers are accepting non-transportation job offers, and driving jobs aren't easily backfilled. When combined with the recent capacity crunch, the need for available drivers is more pressing than ever before, creating an environment where there are more loads than drivers. The shortage of drivers is estimated to hit more than 50,000 by year end and is expected to increase to almost 174,000 by 2026, per the American Trucking Associations. Attracting and retaining top driver talent in today's landscape requires a lot of time, effort, and investment. Many businesses that operate a fleet lack the resources necessary to make this a high priority. They instead outsource fleet management to a logistics provider for this reason among others. An experienced outsourced provider will be better equipped to remain competitive in today's tight market. Some of those efforts include:
Recruitment team knowledgeable about drivers
To appeal to drivers, recruiters must know the differences between requirements of driver jobs (e.g. hand unload, drop and hook, etc.) and the hardships drivers face in the industry. J.B. Hunt has the industry's best driver personnel team, a recruiting force of more than 360 employees devoted to finding the right driver for the right job.
That team includes a diverse group of verification and recruitment roles. It can take more than 100 calls to get one driver hired. Employees must also conduct background checks and schedule road tests, which requires significant effort when hiring at a large scale. The driver personnel team hired more than 13,000 drivers to in 2018.
Core focus on driver-friendly experiences
J.B. Hunt was founded by a truck driver who understood what it was like behind the wheel. Because of his experiences, drivers were integrated in the company's culture from the beginning. When drivers are at the heart of a company, every day is driver appreciation day. Access to coffee, washer and dryer units, and a marketplace are examples of the many things that our experience team leads to improve their workplace satisfaction. We are continually investing to improve the experience so drivers can take pride in the quality of their workplace, equipment, and technology.
Fair, competitive pay and benefits
Good pay and benefits are a fundamental way to recruit and retain drivers. J.B. Hunt researches geographic markets and driver activity to determine compensation. Drivers also have easy access to management, because most managers or supervisors are on-site at J.B. Hunt Dedicated Contract Services (DCS) accounts. DCS drivers are also assigned to local, familiar routes that get them home more often and in less time.
Recognition for the hard work and long hours
Retention is a huge undertaking and component of our success. True appreciation is more than a statement; it's a culture. One of the many ways J.B. Hunt recognizes drivers for their safe mile achievements is by holding annual celebrations.
A week in September is set aside each year to recognize every driver industry wide, but we take it a step further by celebrating the entire month. We plan more than 140 events across the United States during Driver Appreciation Month.
By outsourcing fleet management to a logistics provider, businesses can focus on core competencies. An outsourced fleet provider like J.B. Hunt specializes in fleet management, including hiring and retaining drivers. As the driver shortage continues to affect every industry that employs private fleets, outsourcing may be the best option for those businesses. Contact the J.B. Hunt Dedicated Contract Services team - 1.800.325.1068 or dedicatedsales@jbhunt.com - for more information on outsourcing your fleet.