Dedicated Transportation Provider Committed to Safety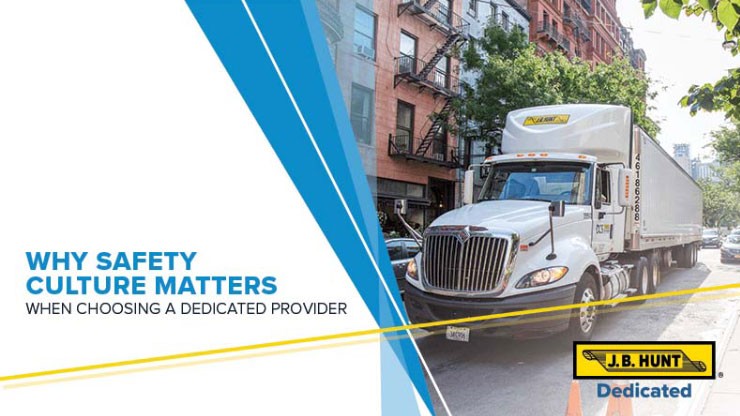 We understand that putting trucks on the road that weigh 20 to 30 times more than a passenger vehicle is a big responsibility. In 2017 alone, more than 4,000 people died in truck-related accidents. That's just one reason why it's important to choose a dedicated transportation provider that is committed to safety and has the record to back it up. J.B. Hunt drivers cover millions of miles every year, while still maintaining an excellent safety record. We provide quality service while promoting and maintaining a culture of safety at every level, starting with driver hiring and training.  
Safety starts with hiring the right drivers and training them for their job
Safety records are a reflection of the culture of an organization, and it is at the heart of everything we do at J.B. Hunt. The Department of Transportation requires drug screenings via urine samples before a newly hired driver is permitted to perform safety-sensitive functions. At J.B. Hunt, we believe it's worth it to go a step further by conducting drug screenings via hair samples. It's much more difficult to "fake" a hair test because drug traces show up in hair for longer time periods. This gives us a better picture into a driver's eligibility for employment and is just one step in helping us put safe drivers behind the wheel. The next step is providing the right training to help drivers do their job safely and efficiently. Once they pass the drug screening, drivers report to their sites for hands-on training. At J.B. Hunt, we provide our drivers with customer-specific training in addition to the training required by FMCSA regulations. This customer-specific training lasts anywhere from three days to six months depending on the customer's needs, the complexity of equipment, and the type of product being hauled. But driver training doesn't end there.  
Safety is maintained with a company-wide commitment and culture
J.B. Hunt has a commitment to safety that permeates our company at all levels. Because our safety department lives within our operations division, we can seamlessly implement and enforce safety procedures in all our operations. For example, once drivers pass training and are placed on the job, we conduct unannounced, random driver observations to encourage and confirm compliance with safety standards. Drivers who operate specialized equipment or work in specialized industries, such as the foodservice industry, receive annual training to keep their skills and knowledge up to date. We are also committed to leveraging technology in ways that help promote safety both on and off the road. J.B. Hunt Dedicated trucks are equipped with driver assist features and collision mitigation radars to help drivers in loss of control scenarios. By the end of 2020, forward facing cameras will also be installed in our dedicated trucks. We also make it a priority to operate in compliance with federal regulations regarding hours of service, or how long drivers can drive before taking a break or sleeping. Our trucks are equipped with electronic logging devices to promote accountability with respect to hours of service, which helps promote a safer environment for drivers and other motorists.  
Our commitment to safety goes beyond safe driving and equipment
While we are committed to training drivers and investing in equipment and technology, we know that safety goes beyond the safe road operation of a tractor trailer. For example, a truck carrying fresh or frozen foods that otherwise arrives safely but experiences temperature failures along the way could present food safety risks. Or, a driver risks spreading diseases if they fail to follow bio-security protocols when entering and leaving a farm. We realize every industry has unique safety concerns that require extra levels of expertise, understanding, and training to manage. At J.B. Hunt Dedicated, we are committed to knowing the industries of our customers and working with those customers to establish safety measures at every level. J.B. Hunt drivers and on-site managers receive training specific to their customer's industry, such as recording temperatures of food products and booting up before stepping foot on a production farm. We also regularly hold industry-specific briefings or additional training on current safety issues.  
J.B. Hunt Dedicated can safely handle all your transportation and logistics needs
Our safety and operations teams work hand in hand, so we can promote safe operations and respond quickly to industry safety challenges. Dedicated providers like J.B. Hunt can help move your freight safely. To learn more about J.B. Hunt's Dedicated fleet solutions, contact us +1 (800) 325-1068 or dedicatedsales@jbhunt.com.