Fit Your Fleet to Your Business: A Customer Story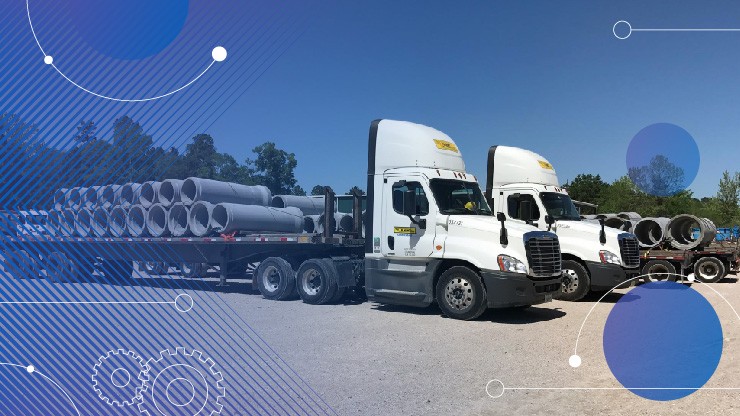 After 30 years in dedicated transportation, we've heard all the initial objections companies have about outsourcing their private fleet. One of the most common protests is: "Our business is just too specialized for anyone else to manage." We understand—it's a big deal to hand the keys of your fleet to someone else. But at J.B. Hunt Dedicated, we've been doing this for several decades now, and customizing fleets for complex transportation needs is what we do best. Whether it's hauling specialized cargo, managing complicated logistics or scaling with seasonal surges, we've done it all.
This is exactly the kind of conversation that unfolded with one of our customers in the infrastructure industry. This customer produces massive, heavy concrete pipes that require a great deal of care and training to load and unload. They also deal with surge capacity due to everyday weather patterns and seasonal fluctuations in the construction industry. Here's how we are developing a custom dedicated fleet solution for them that doesn't just get the job done, but increases efficiency and driver productivity, too.
We are implementing a pre-load program
Loading and unloading these massive concrete pipes is a tedious, labor-intensive task and requires painstaking care to help protect the safety of all involved. This process also limits productivity because when drivers arrive to pick up their loads, they are subjected to long wait times while their trailers are safely loaded. To address these delays, we are purchasing additional trailers and implementing a pre-load program. Now, instead of drivers showing up with their empty trailers and waiting while they're loaded, they can essentially drop off the empty trailer and hook up to another one that has already been loaded. This drop and hook scenario increases driver productivity by reducing wait time and increasing the number of deliveries drivers can make in a day.
We provide surge capacity to flex with their seasonal needs
Like many industries, construction experiences seasonal fluctuation, with increased demand in the summer and fall seasons that slows down throughout the winter and spring. Not only does our customer deal with these seasonal fluctuations in demand for their concrete pipes, but they also manage day-to-day surges based on local weather patterns. When it rains, all deliveries come to a halt since the job sites are typically too muddy to receive trucks and unload. Once the rain stops however, the workload doubles as they try to make up for that lost time.
J.B. Hunt can offer a fleet solution with the assets and manpower needed to accommodate these volume surges. Because of the density of our customer locations, we can often "loan out" drivers and assets from nearby accounts when needed to scale up with our customer's deliveries.
We further enhance safety measures
With a safety culture that permeates every level of our company, we take the time to listen to our customers and evaluate the specific safety concerns associated with their fleets. For this particular infrastructure customer, loading and unloading requires a high level of attention, skill and care due to the sheer weight and size of the product. Their average pipe weighs between 2,100-2,500 pounds, and a typical load carries 18-20 pipes. When J.B. Hunt Dedicated took over their fleet, we conducted a thorough job safety analysis to gain a better understanding of the safety risks involved. We then used this analysis to build formal safety protocols for loading, securing, and unloading pipes. We also implemented a formal training process to help promote safe practices and adherence to safety procedures.
We build custom fleet solutions across industries
We've been doing this long enough to know that there really is no standard fleet solution. Every company and every industry face specific challenges when it comes to transportation and logistics. This is just one example of how we've put our years of experience and expertise to work to develop a fleet tailored to fit our customer's needs. Whether it's hauling heavy, oversized product, transporting sensitive freight, or managing complex supply chains, J.B. Hunt Dedicated is prepared to build a custom fleet that meets your needs. Get the conversation started by contacting us today.