Ag Transportation Services Dedicated to Poultry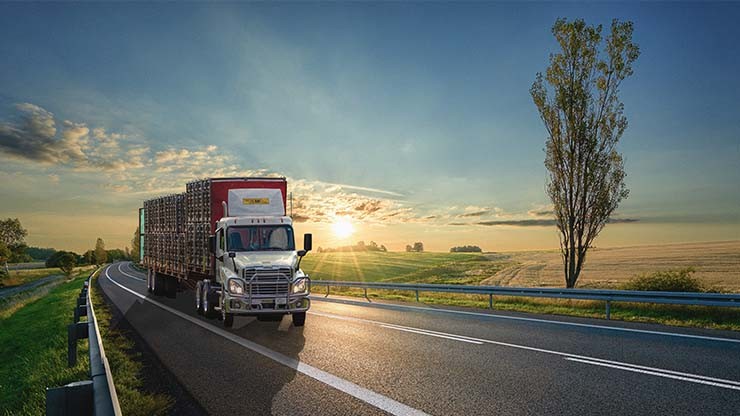 J.B. Hunt Ag Services' motto is "You Grow. We Go." because we are committed to the safe transport of agriculture products. We are dedicated in our efforts in getting your product where it needs to be when it needs to be there with the utmost care in mind. According to annual reporting, J.B. Hunt has hauled over a billion birds and over 7 million tons of feed in 2021 alone. We believe that means you can trust J.B. Hunt's ag transportation expertise so you can get back to what you do best, focusing on greater return opportunities for your business.
At J.B. Hunt we hire only the best drivers to handle your ag transportation.
We understand the difficulties in finding and hiring quality drivers, especially for specialized industries transporting animals and animal products. J.B. Hunt Ag Services maintains specific hiring protocols to secure professional, dedicated drivers for your business. We thoroughly screen our drivers utilizing hair drug tests and background checks that reference an applicant's social security number rather than their tax ID number. By providing an applicant's social security number for a background check, J.B. Hunt can retrieve more data on a driver's past, making it extremely difficult for those with poor driving records to get hired.
Having a driver come onto your farm is like having them in your home, and we work hard to make sure only the best will be coming to you. Most of our practices for hiring drivers may seem fairly standard, but the fact is that not every transportation company has the process or means to provide the same level of vetting for their drivers as we do. When you select J.B. Hunt Ag Services for your live haul needs you will know that you are getting one of the best in poultry transportation every time.
J.B. Hunt Ag Services works to keep sensitive products safe to take worry off your plate.
Animal transportation stress can be a big worry when handling the distribution of live product. Factors like improper ventilation and poor control of the onboard thermal micro-environment can result in the loss of birds. Our expertise when hauling poultry means we recognize the sensitivity of handling live production transport, and the time and money it has taken to make a product market ready.
That's why J.B. Hunt Ag Services drivers undergo specific training and receive proper certifications surrounding live haul transportation, such as the Poultry Handling and Transportation (PHT) certification from U.S. Poultry & Egg Association. Our training doesn't stop at a one-time earned credential either. We conduct annual training on animal welfare and biosecurity for all employees involved in the live haul process. Our J.B. Hunt Ag Services drivers also receive account-specific training, so they are fully prepared to move your product once on-site. All our training practices are in place so you can have confidence that your product is in safe hands during transport.
Outsource with J.B. Hunt Ag Services and get a private dedicated fleet provider experience without having to manage it yourself. 
J.B. Hunt is one of the top poultry haulers in the country, and we would love to talk more with you about how our services can benefit your business. Contact us today by email at ag.services@jbhunt.com or by phone at +1 (888) 668-6160.