Women in the Supply Chain: Trucking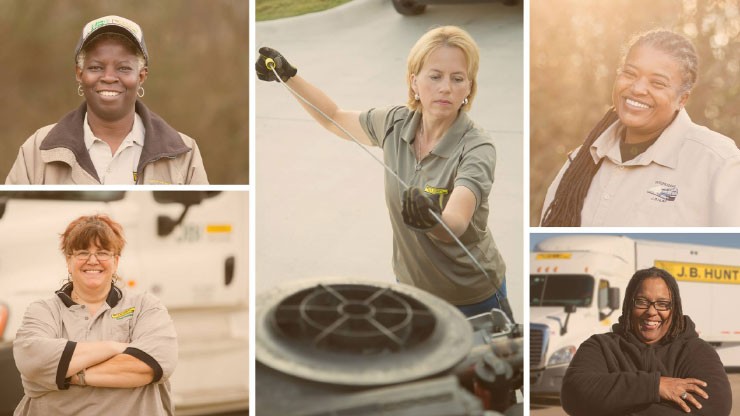 According to Trucking.org, the United States is expected to reach a truck driver shortage of 175,000 employees by 2024. Currently, the average age of a truck driver is 49, and unless new drivers are introduced to the industry the pool of drivers with experience will be increasingly smaller. Enter: the female truck driver.  According to an analysis by Omnitracs in 2016, female truck drivers:


have a lower accident ratio compared to male truckers
stay at companies longer
cover more overall miles per month and per year
are terminated at a lower rate than male drivers
Most in the transportation and logistics industry know at least one female driver – they've been hauling cargo since freight shipping began. Still, although women make up 43% of the full-time workforce in the U.S., only 5.1% of truck drivers in 2016 were women. According to the 2015 Truck Driver Shortage Analysis, growth of minorities in the field jumped from 26.6% in 2001 to 38.6% in 2015. However, the portion of women working in the trucking industry has remained between 4.5% and 6% since 2000. This huge sector of the labor industry provides a bright future for the trucking industry, especially as an increase in omnichannel sales and a decrease in delivery time calls for more drivers than ever. 
Besides the overall positive effects of diversifying the workplace, women have shown to be reliable, tenured, and dedicated to their jobs. With driver turnover so high, attracting new truckers from untapped demographics is essential. In addition, a 2017 report from Women in Trucking showed there was no wage gap indicated between male and female drivers in 2016 – a far cry from the overall U.S. workforce which showed in 2015 that women made 20% less per year than men, on average, while Hispanic/Latina and African-American women make 54% - 75% less than men. 
If you're looking to drive growth at your trucking company, consider recruiting female drivers to join your team. Not only will your business benefit, but the industry as a whole will have more well-trained drivers available to move freight. To retain female drivers, consider implementing a mentorship program within your company. J.B. Hunt is a proud gold-level sponsor of Women in Trucking (WIT). According to WIT president and CEO, Ellen Voie, J.B. Hunt's "passion is evident through the initiatives they have put in place to increase the number of female drivers and women at the management level." For more information on ways to recruit and retain female truck drivers, visit the WIT website.
Search for #womenintrucking on social media to find stories of women in the trucking industry.