Johnelle Hunt: One of the Original Women of Trucking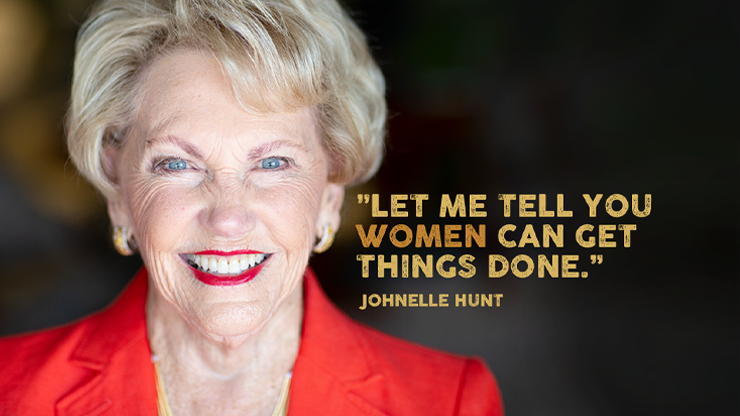 The name on the side of hundreds of thousands of trucks, trailers and shipping containers spread out across the country read "J.B. Hunt" within a yellow-and-black scroll logo.
It reflects the name of one of the co-founders of the company – Johnnie Bryan Hunt, equal parts truck driver and dreamer. But as Johnnie developed a new use for rice hulls and later bought five tractors and seven trailers to cement his place in the trucking industry, a steady presence balanced the books and made sure that every last cent of outstanding payment was collected to help the fledgling company stay alive.
When Johnelle Hunt (nee DeBusk) started as the default business manager of J.B. Hunt Co. when the company was founded in 1961, she entered an industry where she had very few female peers. The industry is making progress in adding female employees, and J.B. Hunt in particular is committed to diversifying its workforce. Mrs. Hunt's steady presence in our organization has helped establish us a welcoming company.
Mrs. Hunt, who just turned 90 years young, was recently honored at halftime of an Arkansas Razorback basketball game to celebrate the occasion. Although she's no longer involved in day-to-day operations at the company, Mrs. Hunt continues to be an inspiration at J.B. Hunt and a major part of the company's legacy. We celebrate her on International Women's Day, and we value the contributions the women who have followed her have made within our company and the industry at large.
Mrs. Hunt, as it turns out, was born for her role. Her father was in the poultry business and he owned trucks to deliver feed to poultry growers.
"I learned to drive very early and I would take one of Daddy's big trucks on a Sunday afternoon and put my friends all in it and drive around in the neighborhoods right there in town, driving that big truck. It was just what we did, things like that. I was actually driving a truck when I was in high school," she recalled in a July 2017 interview.
And a life with Johnnie meant a life around trucks, too. The couple met in Heber Springs, Arkansas. Johnnie drove a red Ford truck with his name on the side of it and hauled livestock to his sale barn. One evening as he drove down Main Street, Johnelle and her group of friends flagged him down for a ride. But when the soon-to-be Mrs. Hunt outraced all of her friends to his truck one day, she claimed the seat beside him. One of her friends who also fancied Johnnie didn't talk to her for three days, but the race was indeed over. Mrs. Hunt would be beside him for the rest of his life.
He eventually borrowed $80 from his aunt and bought an engagement ring. While driving down the road, he handed her the ring on the way to her high school graduation. She still has the ring more than 70 years later. After the graduation ceremony, Johnnie stayed around to tell her parents what he had done. They married two years later and became business partners. They were a perfect pair. Johnnie was the idea man, and she focused on the fine details that kept things moving behind the scenes.
There were a few other women employed by the company when it was founded, but not many. It required Mrs. Hunt to set the tone for the organization.
"I started working at the company in Stuttgart when we just had a few ladies in the office and then workers at the plant and we even had some women out in the plant, too. Then I came here (Northwest Arkansas), but I have never once felt like I was intimidated by a man," she said in 2017.
In fact, she did some of the intimidating herself.
"I did all the collecting for many years because I knew we couldn't make payroll if I didn't call a person at 10:00 at home at night or I'd call a person at 5:00 in the morning," Mrs. Hunt said in an interview discussing J.B. Hunt's 60th anniversary. "But whatever it took, I stayed on that phone all day long, being not a very nice person to those people that wouldn't pay, but I had to because that's how we paid the bills."
She also served as a sounding board to some of her husband's biggest ideas. Johnnie would come home from a day in the office and pitch a new endeavor to her. She would try to be his voice of reason, but it only inspired him to keep pushing forward.
"And you know what, that was just like pouring fuel on the fire, is when he would come up with these ideas and I would say, 'Now, Johnnie, why would they do that?' Or, 'Why could you do that?' And I think that was the driving force. That's all I had to say. And then, he would show me how he could get out there and get it done, and he would go after it. So, I guess those little words of mine drove him a long way," she said.
As the company grew, the Hunt family grew along with it. They had two children and seven grandchildren. J.B. and Johnelle were married for nearly 55 years until his death in 2006. She continued to serve in a variety of roles until 2008, when she stepped away from the company's board of directors. Because of her instrumental role in the development of J.B. Hunt Transport Services, her later business endeavors, and her ongoing philanthropic investments, Mrs. Hunt has been named to the Arkansas Business Hall of Fame, the Arkansas Women's Hall of Fame and was awarded Arkansas Business' Legacy of Leadership Award in 2021.
"He was a truck driver who left school after the seventh grade to work, a forward-thinking optimist who didn't like details. She is a detail-oriented pragmatist who dealt with whatever followed, who left college to marry the love of her life," the business newspaper said of their Legacy of Leadership honoree.
Or, as Mrs. Hunt put it, "Johnnie was looking through the windshield and I was always looking through the rearview."
Despite her continued involvement in many projects, including an ever-expanding real estate operation, Mrs. Hunt said her heart will always be with the former rice hull litter company in Stuttgart, Arkansas, that grew into a transportation industry leader that employs more than 32,000 people nationwide and is based in Lowell, Arkansas.
"It makes me feel so great because this will always be my baby. I'm doing other things now. I'm developing, I'm building buildings, I'm building apartments, I'm doing all those things, but J.B. Hunt Transport will always be my baby and it will always be the one that touches my heart when I'm included," Mrs. Hunt said as the company turned 60 years old last August.
And because she broke into the industry and forged her path, others could follow in her footsteps. J.B. Hunt employs thousands of women across the country. Nearly 1,000 of them are members of the female-focused employee resource group named GROW that aims to recruit and develop leaders with diverse backgrounds, experience and unique points of view.
"Let me tell you, women can get things done," Mrs. Hunt once said.
And that's been true since the very beginning of our company. Without Mrs. Hunt, there isn't a J.B. Hunt Transport Services, Inc. And without J.B. Hunt Transport Services, Inc., there would be far fewer opportunities for women in the trucking and logistics industries.
We celebrate Mrs. Hunt and all the women who are part of the J.B. Hunt family, today and every day.