J.B. Hunt Employees Recognized During University of Arkansas Military Appreciation Game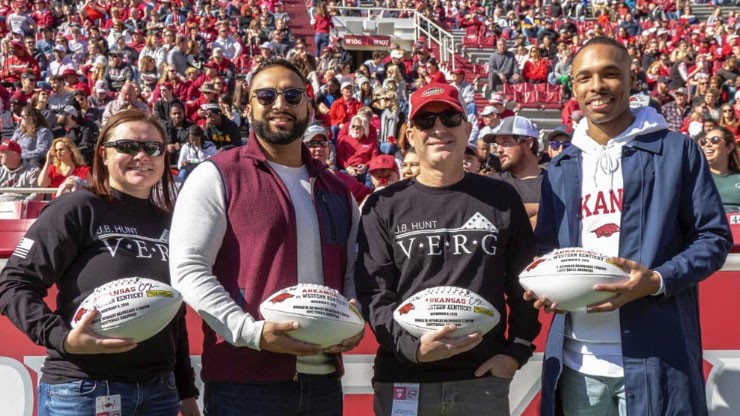 During the Arkansas Razorback football game on Saturday, Nov. 9, four J.B. Hunt employees were recognized on the field and presented with a game ball. This recognition spotlights the valuable and lasting contributions members of the Armed Forces make to our company and community. 
Sadonta Cole currently serves at Ebbing Air National Guard Base, the 188th Fighter Wing, in Fort Smith, Arkansas. Senior Airman Cole started his military career in 2016. He's a proud firefighter at the 188th Fire Department. At J.B. Hunt, Senior Airman Cole is an On-Boarding Specialist in Driver Personnel. 
Paul Cooper is a retired U.S. Air Force Master Sergeant who served for 21 years. For most of his career, he served as an Air Traffic Controller around the globe with assignments in Japan, Korea, Germany, Iraq, Saudi Arabia, and many places inside the U.S.  He has been awarded with multiple Meritorious Service, Commendation, and Achievement awards for his service. A graduate from Ashford University with a degree in Organizational Management, he now works at J.B. Hunt as an Organizational Change Manager in Engineering and Technology. 
Sergeant Rodrigo Valdez served in the United States Marine Corps. Sergeant Valdez enlisted in 2013 and was honorably discharged in 2017. Sergeant Valdez was stationed at Camp Lejeune, North Carolina, with the 8th Engineer Support Battalion. While serving overseas in Norway and Central America, Sergeant Valdez was awarded two Navy and Marine Corps Achievement Medals. Sergeant Valdez currently works at J.B. Hunt as an International Intermodal Pricing Manager. 
Tenesha Whorton served as a Specialist in the United States Army Military Police from 2011 to 2014. Tenesha was stationed in Germany and Fort Campbell, Kentucky. Tenesha is a two-time recipient of the Army Achievement Medal. Tenesha currently works at J.B. Hunt as a Client Manager for Government Services. J.B. Hunt is honored to recognize these courageous men and women who have served in the United States Armed Forces.